The US government wants you to know, doing business with certain Chinese companies might threaten state security. But ask why, and you'll find it hard to get a specific answer.
On Monday (June 2), the National Telecommunications and Information Administration (NTIA), a branch of the US Department of Commerce, issued a statement urging the Federal Communications Commission (FCC) to refuse China Mobile, the largest carrier in the world, permission to offer services in the US. The company had first applied to the FCC in 2011.
The recommendation comes as no surprise. Tensions between Washington and Beijing have mounted over the past several months, as US lawmakers wrestle with concerns about China's state-led tech push, IP theft affecting US tech companies in China, and Chinese spying. Since China Mobile is owned by the state and part of a sector that's an easy conduit for surveillance, US lawmakers will naturally be wary of it.
In a public statement announcing the recommendation NTIA stated "After significant engagement with China Mobile, concerns about increased risks to U.S. law enforcement and national security interests were unable to be resolved." Yet this begs the questions—how specifically is China Mobile a threat to threat to US national security?
The recommendation, coupled with other moves to block Chinese companies from doing business in the US, continues a troubling precedent for US-China relations—the lack of a thorough public explanation of how a particular company's ties to the Beijing jeopardize US national security.
The NTIA's February petition to the FCC contains a short explanation of the reasons to be wary of China Mobile. Primarily, it notes past instances of Chinese state-backed surveillance toward the US and then argues that giving China Mobile access to US networks might make such surveillance easier to conduct. Should China Mobile enter the US, China's government might seek to use it to exploit the telephone network "and increase intelligence collection against US government agencies and other sensitive targets."
However, the information that led to this conclusion—and most of the document that's available to the public is redacted. That includes China Mobile's answers to initial questions posed about the company's plans to obtain the license, as well as its replies to follow-up questions given months later. Anyone looking for insight into what specific information NTIA obtained about China Mobile that led to the decision will be treated to a mess of black boxes.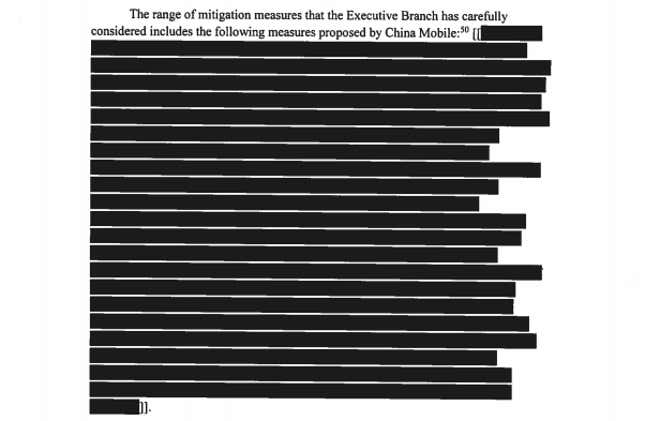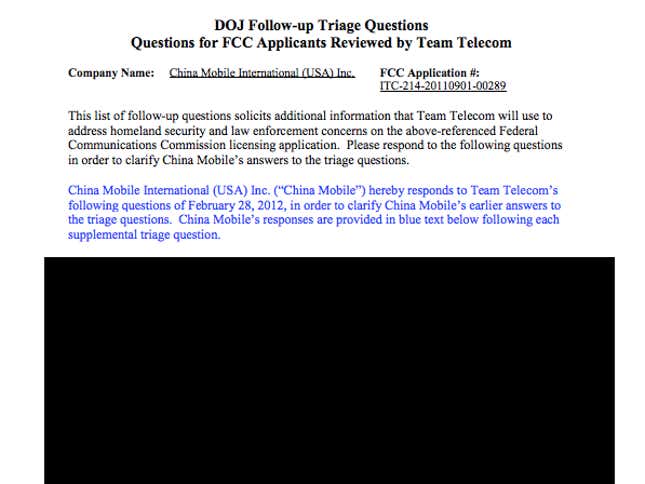 China Mobile and the NTIA did not respond immediately to Quartz's request for comment.
It's understandable that the US government needs to keep some information about managing national security hidden from the public. But as Washington bars a growing list of Chinese companies from doing business stateside, not revealing the specifics of how certain deals or companies pose a national security threat—beyond the fact of being conducted by Chinese entities—will likely only spur Beijing to view these as a form of protectionism, and take protectionist measures against US companies in China in return.
Take the case of Huawei and ZTE, for example. In 2012, the US Select Committee on Intelligence issued a lengthy report (.pdf) suggesting that doing business with the Shenzhen-based network equipment makers could jeopardize national security.
US lawmakers corresponded with the companies directly in an attempt to understand their relationship with China's government, and stated that the latter didn't cooperate. The two firms "refused to provide straightforward answers about their operations in the United States, sought to avoid answering questions about their histories of intellectual property protection, and claimed to have no understanding or knowledge of Chinese laws that force them to comply with the Chinese government's requests for access to their equipment."
China does leverage its tech giants—whether state-owned or private—to advance policy goals, conduct surveillance, and censor public discourse domestically. It might be true that Beijing will pressure these companies to do the same as they expand abroad. That isn't the equivalent, however, of evidence that Huawei and ZTE will engage in the surveillance that the report fears. Still, earlier this year, the US government prevented Huawei from selling its flagship phones to US consumers by blocking a planned rollout with AT&T.
If Huawei phones—or China Mobile services—aren't safe for US consumers use, lawmakers need to do a better job of explaining why that's the case, especially since the former's phones and equipment are selling strong in Europe, which must have similar concerns.