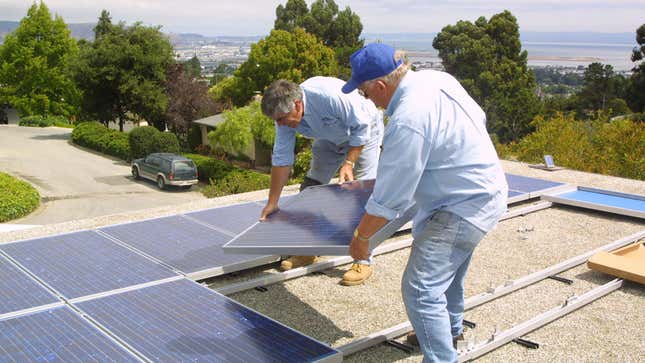 The biggest obstacle facing the solar energy sector isn't technological—it's financial.
That's one lesson to be drawn from the newly public plans of SolarCity, the US company backed by serial entrepreneur Elon Musk and run by his two cousins, Lyndon and Peter Rive, to raise $201 million in an initial public offering on the NASDAQ market sometime later this year. The company registered for the IPO in April but, employing to new options created by the JOBS Act, didn't reveal the plan publicly until Oct. 5.
Clean tech IPOs haven't been favored of late, thanks to the over-blown Solyndra scandal and falling natural gas prices. BrightSource Energy, which builds solar panels, withdrew plans to go public earlier this year. SunPower, a competitor, has seen its shares have lose nearly half their value in the past year.  There is something telling in the fact that Google invested more money in a joint venture with SolarCity last year—$280 million—than the company hopes to gain from its IPO.
Unlike SunPower or BrightSource, though, SolarCity didn't get its start as a manufacturer of solar panels, but as a customer-facing provider. Through a streamlined process, the company finances leases on solar equipment, which it installs and maintains, to building owners. SolarCity then splits the savings from the new power source with the consumer and its investors over time. The solar lease has major potential: It could ease the large-scale deployment of clean energy technology while also providing a huge volume of new, utility-style investment opportunities. Hence Google's interest in putting $355 million worth of its cash into Solar City's funds.
Still, the company faces stiff competition from others offering similar deals. It hasn't found a way to be profitable yet, and forecasts losing $48 million this year. Much of that is the cost of expansion: The company doubled its sales and marketing expenditures in the last year, adding 13,817 new buildings in the first six months of 2012; it added 9,429 in all of 2011.
The bigger challenges may be political. SolarCity's fortunes could change if the government begins regulating it differently, particularly more like a utility. It could also suffer if various tax rebates and other public incentives for green energy expire and if fossil fuels get cheaper thanks to expanded drilling, especially fracking for natural gas. There's also the matter of an on-going IRS tax audit of two of the company's solar financing funds.
As promising as the model is, there is plenty that could go wrong along the way, which is the real lesson from the Solyndra experience: It's not a tale of corruption or a referendum on an industry, but a fair warning that in a fast-changing sector, disruption is common and unexpected.
People probably told Musk that starting companies to produce spaceships and electric cars had risks, but SpaceX and Tesla have continued as going concerns. Tesla's stock price is up over 50% since its 2010 IPO. Maybe there's something to this whole sun-power thing, too.