After several postponements and the scrapping of a state visit in favor of a "working" visit, Donald Trump will finally arrive in the UK this week.
When British prime minister Theresa May first invited the US president, after his inauguration, people in the UK took to the streets to protest his travel ban targeted at Muslim-majority countries. A year and a half later, the British public feels pretty much the same. Thousands of protestors are expected this week—some plan to fly a giant Trump baby balloon over Westminster in London—but Trump is doing his best to keep them out of sight.
The itinerary for his four-day visit almost entirely avoids London, where the largest of the protests are set to happen. Thursday evening will be spent at a black-tie dinner at Blenheim Palace in Oxfordshire. Friday will be spent at Chequers, the prime minister's country residence, and then meeting the Queen at Windsor Castle. The weekend will be spent in Scotland. Trump's only time in London will be a Friday night stay at Winfield House, the US ambassador's residence in the capital city.
And for that he gets a wall…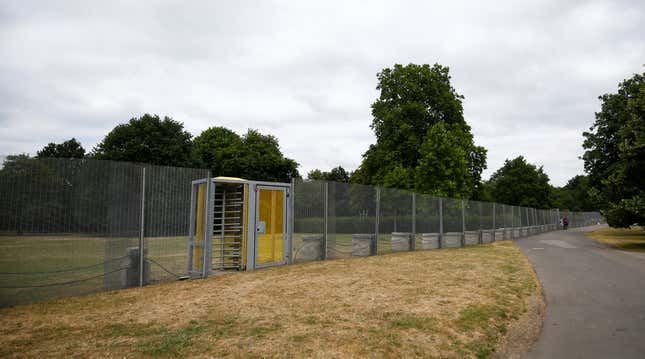 A giant metal fence and bollards have gone up around the US ambassador's residence, which is in one of the city's most central parks.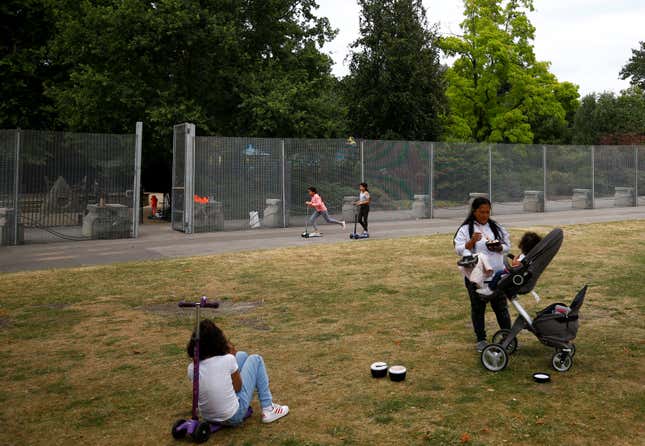 Despite Trump's affinity for walls, this one is unlikely to deter protestors. Organisers are planning a "carnival of resistance" that aims to meet Trump wherever he goes in the UK. Extra police have already been called in.