China might be the hottest golf market in the world but the prospects were cloudy for a high-profile women's tournament outside of Beijing this weekend, as heavy smog levels triggered air quality warnings and sent some players scrambling for air filtration masks.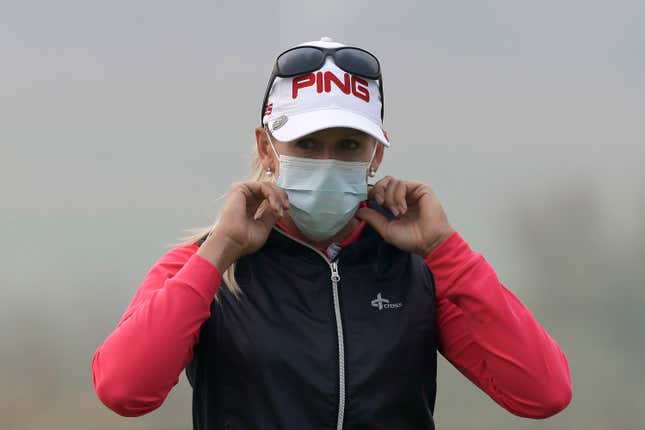 The  Reignwood LPGA Classic tournament, which featured a dramatic victory by China's own Feng Shanshan, who hit an 18th-hole eagle to win by one shot, delayed its starting time on Sunday because of "heavy fog"—a euphemism for pollution that has largely been discredited since the US Embassy in Beijing began posting air quality readings. "The LPGA has being playing the 'fog' card that fools nobody," noted The Li-Ning Tower, a Chinese sports business news blog.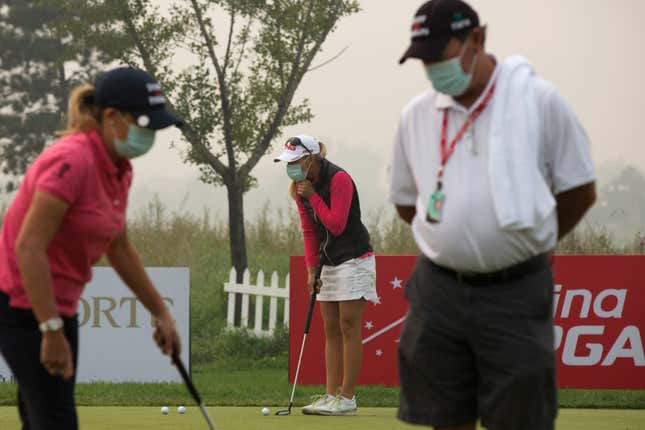 The embassy flagged this weekend's levels as "hazardous"—as did the Beijing government's own measuring stations—which means that adults and children are cautioned to "avoid all outdoor exertion."
The references to "smog" rather than "fog," and the noticeable absence of any mask-clad players on the LPGA's own website, drew suspicions that golfing officials were trying to soft-peddle the extent of the problem in its fastest-growing market. After being banned by Mao in 1949, golf has rapidly become the game of choice for upwardly-mobile Chinese, with the golf sector now worth an estimated $462 million, growing at 15% a year.
Bloomberg's Adam Minter wrote that "the Ladies Professional Golf Association demonstrated its willingness to sacrifice player safety for its own long-term financial health."
Ironically the paper masks the golfers appear to be wearing—lightweight ones that fasten behind the ears—do very little to protect from PM2.5 particulate matter, which is the most dangerous because its small particles can penetrate deep into the lungs. The US Embassy says on its website that "Paper 'comfort' or 'dust' masks are designed to trap large particles, such as sawdust.  These masks will not protect your lungs from small particles such as PM2.5."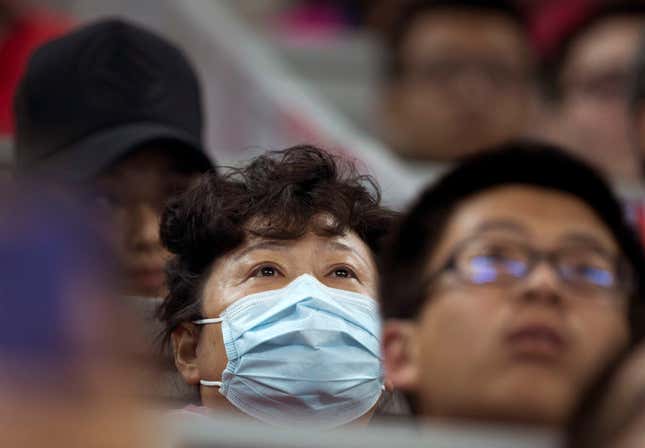 Air quality was also an issue at the Beijing Open tennis tournament, where some mask-clad spectators watched an unmasked Novak Djokovic defeat a similarly bare-faced Rafael Nadal. The top players didn't mention the air quality, but doubles specialist Robert Lindstedt let loose on his blog:
I have been thinking a lot about of how fucking bad the air is over here. it's a joke. How much of your life disappears when you spend time here? Really? Already after a few days I feel that I am not doing to [sic] good. I get dizzy when I get up. Yesterday I couldn't recover between points in practice and was breathing heavily the whole hour. If you blow your nose in the evening, the paper turns black. It's just not healthy to be here. I should probably think about that next year…
After his comments drew some media attention, Lindstedt reiterated that the "air was a disaster," and added: "Now we will have to wait and see what reaction these words get. I hope I get to leave the country."