In one of the corporate world's great rivalries, Airbus is gaining the upper hand over Boeing. The European aerospace group announced a major new order for its A350 jets from Japan Airlines (JAL)—its first deal with Japan's second-largest carrier. The deal for 31 jets is worth more than $9 billion before discounts, with an option for another 25 deliveries in the future; shares of Airbus parent company EADS jumped on the news.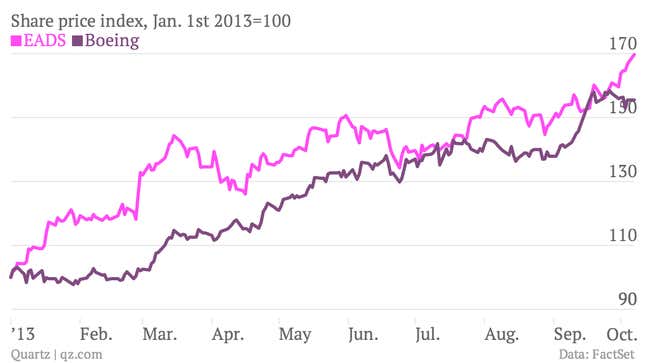 Given the companies' duopoly in the commercial jet market, every deal announced by one is seen as lost opportunity for the other. To this end, Airbus's contract with JAL is nothing short of a disaster for Boeing.
The Chicago-based group enjoys a market share of more than 80% in Japan. Japanese companies designed and supplied around a third of the parts for Boeing's 787 "Dreamliner" jet, and JAL's larger rival ANA was the first Dreamliner customer.
The next-generation aircraft has proved a nightmare for Boeing, suffering from years of delays and a series of technical faults that led to a three-month grounding of all Dreamliners in service earlier this year. The jet's reputation for flakiness means that even minor faults and delays now generate headlines.
Stalwart Boeing customers in Japan shifting their allegiances to Airbus is a much more serious development than the usual tit-for-tat between the planemakers. Stung by delays in delivery and operation of the Dreamliner, ANA is now considering a switch to Airbus to replace its fleet of Boeing 777s, with an announcement expected in the first half of next year.
Airbus's net orders have surpassed Boeing's in five of the past six years, including in the first nine months of 2013. The prospect of Boeing now losing ground in Japan, traditionally one of its strongest markets, is ringing alarm bells. The latest news from the embattled manufacturer, touting the recent delivery of a single Dreamliner to Royal Brunei Airlines, is unlikely to calm investors' nerves.