When the Hague decided to fix its curb-trash problem, it found a solution underground.
In 2009, the Netherlands city began installing trash bins under the sidewalk, and as of 2017 had 6,100 such units inserted in its streets. While a small trash mouth pops out of the ground at waist height, the submerged bin can hold up to 175 cubic feet of rubbish.
The underground containers have been such a success that they appeared in a 2017 New York City Zero Waste Design Guidelines report (pdf), meant to provide inspiration and practical ideas for the Big Apple's own trash travails. In 2015, New York set a goal of 90% waste reduction by 2030. Developed in consultation with architects, planners, developers, building supers, and city officials, the report emphasizes the crucial role design will play in achieving these significant targets.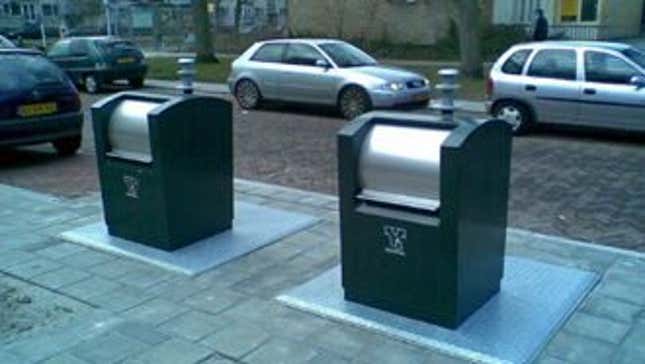 Roughly 3,500 of submerged receptacles in the Netherlands are sensor-enabled, allowing waste-management officials to monitor rubbish levels and set a "smart schedule" to only pick up trash when a receptacle needs emptying. The community also plays a role: Residents can apply to adopt their rubbish receptacles. Adoption responsibilities include clearing bin obstructions, tidying up around the receptacle, and immediately notifying the city if repairs are needed.
The Zero Waste report suggests a similar system could work in New York. The cities are comparably dense, with similar infrastructure and utility systems under their streets. And New York's Department of Sanitation already has an Adopt-a-Basket initiative, whereby residents can adopt public litter baskets.
The report also highlights other innovative waste-management solutions, including a system in Vitry-sur-Seine, France that provides collection via pneumatic tubes. In fact, it notes, this system is also already in use in New York: Multiple times a day, a vacuum sucks trash from Roosevelt Island's residential buildings to a waste collection station elsewhere on the island.