Today is World Emoji Day, a wonderfully made-up observance to celebrate the tiny glyphs we've all come to use to replace emotion and depth in much of our communication. In a rare act of levity, Apple decided to mark the day (July 17) by changing the photos on its leadership team page to custom-designed "Memoji"—new cartoony avatars that anyone can create in iOS 12, the forthcoming version of its mobile operating system.
The small act of fun also provides a rather stark reminder of just how white—and predominantly male—the executive leadership at the US's most profitable company is. There are only two women—general counsel and senior vice president Katherine Adams and head of retail Angela Ahrendts—on the executive team.
There are a few other women in senior positions included lower down on Apple's leadership page, including Lisa Jackson, head of environment, policy, and social issues; Isabel Ge Mahe, head of Apple's China division, and Deirdre O'Brien, human resources director. Here's the full page of Memoji: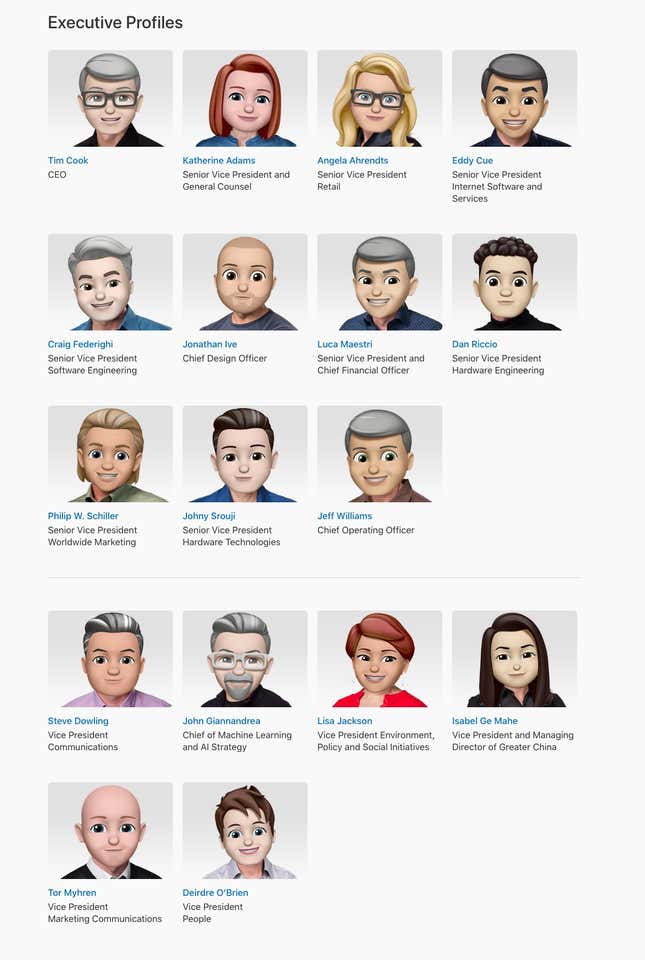 Apple releases a diversity report each year. Its latest states that women comprised just 32% of the company, and 29% of its leaders. Roughly 54% of its staff is white, with only 23% of its US staff coming from what it calls "underrepresented minorities in the US."
While Apple's diversity hiring has definitely been trending upwards in recent years, it also reported that 66% of its leadership team is white, which is somehow even more obvious in emoji form.