In the scramble for share in the world's largest auto market, Ford has long been the straggler. Launching its first joint venture only in 2003, the company trailed Volkswagen's entry into China by nearly two decades, and General Motors by six years (pdf).
No longer, it seems. Ford's sales doubled in the first eight months of 2013, compared with the same period in 2012. The carmaker just announced that it is on track to sell close to one million vehicles in 2013, reports Reuters, which would move it above Toyota and Honda—they're expected to hit 900,000 and 750,000, respectively.
The Japanese carmakers are still struggling to gain ground after 2012's swell of anti-Japanese sentiment surrounding a territorial spat. Toyota's and Honda's fall from favor created an opening for the Ford Focus, which the company souped up with more leather and chrome to appeal to Chinese buyers. Just under half of the 551,738 vehicles it sold from January to August in China are Focuses. Two models of sports utility vehicles (SUVs) are also powering Ford's China growth.
Beating Toyota and Honda will land Ford firmly in the middle of the pack. It's still way behind GM Group, which will sell three million vehicles in China in 2013, up 7% from last year's total. Volkswagen, meanwhile, should hit 3.2 million, an increase of 14%, as Reuters reports. In terms of Chinese market share, Ford claims only 3% (paywall), compared with Volkswagen's 18.2% and GM's 14.6%, reports The Wall Street Journal. However, it's shooting for 6% by 2015.
Ford's aggressive push into China and Asia more generally marks a big pivot in its strategy. The company lost $77 million in the region in 2012.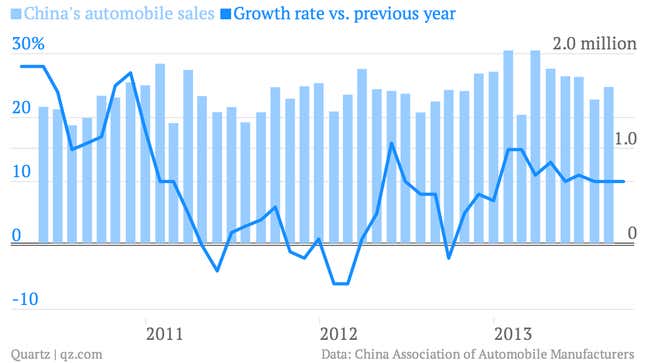 But expansion is expensive. Ford will spend $4.9 billion to double production capacity and broaden the selection of vehicles it sells in China. A big reason this shift is possible is that sales are booming in the US—Ford's on track to post its fifth-consecutive year of growth, which would be the first time it's done that since World War II—freeing it up to focus on its China expansion, as Bloomberg highlights. That gives it the opportunity to sell to hordes of first-time Chinese buyers, as well as to tap the country's surging demand for sports utility vehicles, which are more profitable.
And it's playing catch-up with competitors that are expanding just aggressively, or even, perhaps, more so. GM launched its first Cadillac assembly plant in Shanghai in May 2013. Between now and 2016, it will be sinking $11 billion into new plants and products in China, while Volkswagen plans to invest $12.8 billion by 2015.