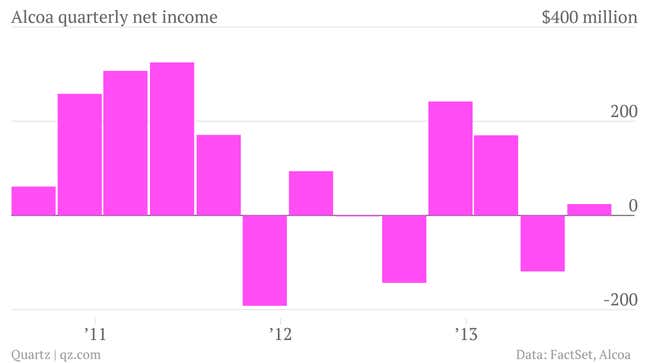 This item has been corrected. 
The numbers: Good. Metals giant Alcoa exceeded analyst estimates; excluding some restructuring charges. The company swung to a $24 million profit in the third quarter compared to the $143 million loss it registered in the same quarter of 2012. Total sales were up about 1% compared to a year ago, better than the 3% decline expected on Wall Street. In after hours trading, the stock gained about 2%.
The takeaway: The results come despite a 3% decline in aluminum prices since  the end of June, and a 7% decline compared to last year, driven by waning Chinese and European demand.  Analysts were keen to see how the company fared on its effort to cut costs. Alcoa's cost-cutters delivered. Productivity initiatives helped Alcoa hit its full-year target of axing $750 million in costs during the first nine months of the year. In total, $825 million in costs have been taken out of the business so far this year. 

What's interesting: Despite the positive news, the company is still embroiled in a long-running US Department of Justice inquiry over allegedly corrupt payments to state-owned Persian Gulf producer, Aluminium Bahrain. The company has offered to settle the matter for $103 million. During the quarter, discussions with the DoJ and SEC continued, though no settlements were reached.   Alcoa warned of a "reasonable possibility" of an additional charge of  up to $200 million to settle the matter. Any settlement would likely be paid over several years, and would probably weigh on Alcoa's bottom line, the company said.
Correction: A previous version of this item said the DoJ had rejected Alcoa's $103 million settlement offer.