All is not well in the luxury world. Stalwart luxury buyers in China are cutting back, according to recent statements from Burberry and Richemont, among others. New data from research firm Euromonitor International confirms that the industry is in a bit of a slump. Global luxury sales are on track to grow by 3% this year, the slowest rate in four years.
Euromonitor reckons that growth will pick up next year, though, driven by its strongest segment in recent years: accessories, specifically men's accessories. The luxury goods industry has been "manning up" of late, says Fflur Roberts of Euromonitor. A host of luxury brands are opening men's only stores, tapping a less saturated market undergoing significant shifts in tastes.
In part, the focus on men's luxury lines reflects the push into fast-growing emerging markets, where the disparity in purchasing power between men and women is wider than in the West, Roberts says. Chinese men are famously keen luxury shoppers, for example.
But one of the hottest luxury items with global appeal is the men's handbag—the "man bag," "man purse," or, simply, "murse". Euromonitor dug into its data for Quartz to help quantify the murse's meteoric rise.
Once a source of mockery, over the past five years men's handbags have seen sales grow at nearly twice the rate of the overall luxury industry. The man-bag market in Asia has doubled since 2008, with murses in the Middle East growing by two-thirds over the same period. The global market for men's luxury bags will reach just under $9 billion this year, according to Euromonitor.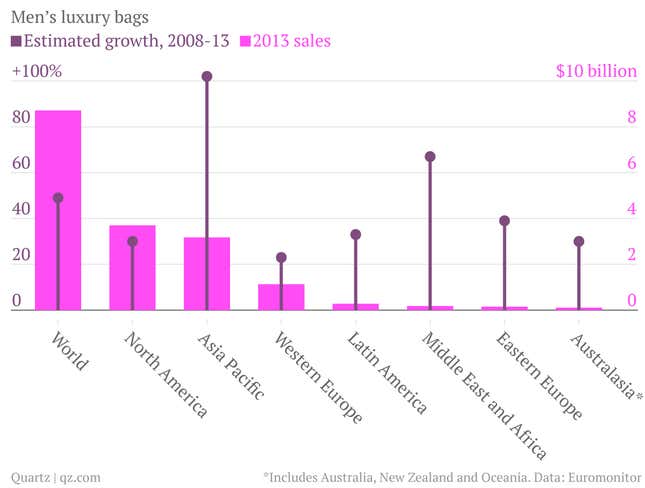 The factors driving men's handbag sales are also fueling luxury accessory sales more generally; accessories have been the fastest-growing luxury segment over the past five years, worth some $50 billion this year. "You might not be able to buy a Zegna coat, but you can have a Zegna bag," says Roberts. "It's got the brand but you are not parting with thousands and thousands. Accessories are big because they are a stepping stone into luxury."
The propensity of men to sport flashier purses is down to changing trends. "Years ago, your average man wouldn't be caught dead walking down the street with a Mulberry bag," says Roberts. "It's becoming a more accepted trend." Indeed, in explaining its recent industry-bucking jump in sales, the boss of Longchamp noted that the brand benefited from its broader range of men's bags as they "become part of a gentleman's outfit."
Euromonitor expects sales of men's handbags to moderate in the next five years. This doesn't mean that blokes won't still bling it up: Luxury man-bags will continue to grow faster than women's purses in many parts of the world.