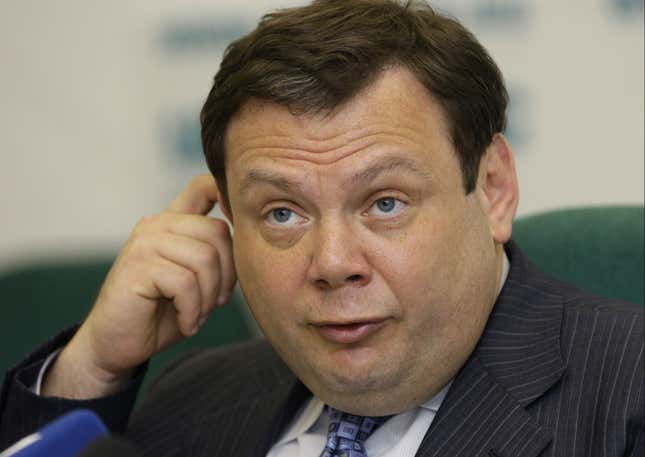 Four Russian oligarchs who have vexed BP for almost 15 years say they, like the British company, are prepared to end one of the most dysfunctional oil marriages on the planet. But one suspects more misery is headed BP's way.
On Oct. 8, AAR, as the oligarchs call themselves, officially notified BP that it may sell out its 50% share of TNK-BP. The declaration comes four months after BP said it will sell its half of TNK-BP, Russia's third-largest oil company, and just over a week before an Oct. 17 deadline for AAR to make a firm offer for the British company's stake. AAR previously said it would make an all-cash offer for BP's share.
The decision by BP to sell was difficult since TNK-BP accounts for a quarter of its global production, in addition to hundreds of millions of dollars a year in cash dividends. But CEO Bob Dudley, who in 2008 was forced to hide incommunicado for fear of his safety in one of the partners' dustups, has seen upside if he sells out not to AAR but to Rosneft, the state-owned Russian oil giant. Rosneft appears prepared to offer cash and shares worth $20 billion or more for BP's share. It appears to be the favorite as it is run by Igor Sechin, the chief oil adviser to President Vladimir Putin.
But AAR, a scrappy consortium led by banker Mikhail Fridman, has run circles around BP since their partnership began in the late 1990s. And last year, Fridman bested Sechin by scuttling the Kremlin's attempt to tie BP and Rosneft together in a blockbuster partnership involving the Arctic Sea.
In that context, the latest announcement from AAR looks like an attempt by Fridman and his friends to improve their negotiating hand. By offering up its share, AAR could rattle a BP-Rosneft deal. At once, not just half of TNK-BP, but the whole company is on the selling block, a development that could attract a number of big players into the bidding. Putin would be unlikely to allow any foreign company to own TNK-BP outright, but a Russian company such as Novatek or Lukoil would have both the cash and political stature to step in. A number of international players might be interested in partnering with either of those companies or Rosneft. Conversely, BP could decide to make an offer for the oligarchs' share. Or Rosneft could do so. Whatever the case, AAR's share could become more valuable.
A central message of AAR's announcement, though, is that the oligarchs do not want to be married to Rosneft. After years of a position of strength in TNK-BP, they would have a "tough" marriage with Sechin, according to a person knowledgeable about the oligarchs' thinking; he is perhaps their only equal at playing hardball on the Russian oil patch. But that aside, they do not respect Rosneft's management skills, and would lose the international reach they have with BP. AAR also believes that TNK-BP itself could end up valued less by the market.
A person close to AAR said the oligarchs intend at the same time to press ahead with their cash bid for BP's share, suggesting that they are attempting to keep as many options as possible open for the brinksmanship to come. BP spokesman Toby Odone said similarly. "BP is pressing ahead with its plans to sell its share in TNK-BP. So this changes nothing for us," he told me by email.