Many of China's best-known internet personalities have severely curtailed their online comments in the face Beijing's draconian social media crackdown—but not Ren Zhiqiang.
The rabbit-fur trader turned millionaire property mogul nicknamed "The Cannon," is one of the few remaining outspoken "Big V's" (for "verified user") on Sina Weibo, the Chinese microblogging platform where he has 15 million followers. Despite the high-profile takedowns of his Big V brethren in recent weeks, he has continued to prod the powers that be. He recently defined patriotism as "the more you criticize, the deeper your love of country," adding that "forgiving the government for its abuse of power is exactly how not to be patriotic." Last month, after the public humiliation of other outspoken "Big Vs," including venture capitalist Charles Xue, Ren wrote that the "gust of wind that blew out the candle that brought light" (link in Chinese).
Ren's outspokenness comes, perhaps not coincidentally, as he's peddling his newly-published autobiography, "Beautiful Ambition." If refusing to tamp down his criticism of the government is a sales tactic, it's working. The 500,000 word book is currently number four among all books on Dang Dang, a popular online retailer, where thousands of readers have given it mostly positive reviews and it's number one in Amazon China's biography section: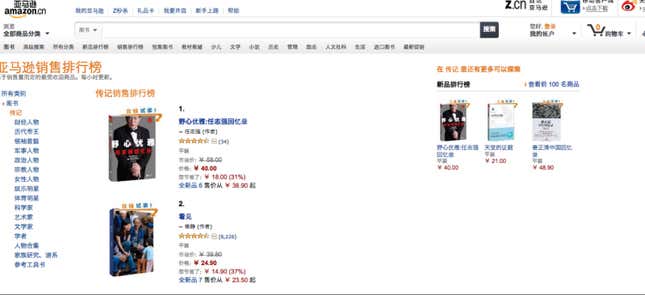 Ren's life story, according the book, is nothing short of an epic set against the dramatic backdrop of a changing China:
Ren's story is an inspiring one, and legendary. He started as a rabbit skin dealer, he went to jail for crimes he didn't commit, but eventually he built up an empire—Hua Yuan Property. He's also an observer of China's 30 year opening-up process, with his life woven into the changing history of China, from the Cultural Revolution to the countryside movement to the market economy.
And, at least according to the introduction, he struggled over whether or not to write it, wondering whether telling his story would open him up to ridicule and gossip. "I want everyone to know that I am a man of flesh and blood," he writes in his introduction, a man who has "bitterness" and "grievances" to share.
Unlike some of the other Big Vs who have been detained, Ren has some impressive political connections, as "princeling" son of former commerce ministry director Ren Quansheng, and a resume that includes more than a decade as the leader of an Army platoon. In "Beautiful Ambition," Ren notes that Chinese vice-premier Wang Qishan used to be his 8th grade class "instructor," a sort of adviser on students' political growth.
His popularity on Sina Weibo has been something of a renaissance—after building up his property empire, he was panned in China for saying publicly that commercial real estate was for the rich, and once had a shoe thrown at him while he was speaking at a real estate forum.
Now, "The Cannon" is being praised instead. As one reader of "Beautiful Ambition" posted on Amazon:
I believe many CEOs in state-owned enterprises would resonate with his criticism on government. He is an idealist, that's priceless. His thoughts and look remind me of some inspiring songs. Hope our nation and government will be inspired by this book.
Ivy Chen and Jennifer Chiu contributed reporting and translation.