One year ago, a cup of coffee in Venezuela cost about 2,300 bolívares. Now it costs around 2,000,000. So the Venezuelan government is fixing the problem: It's slashing five zeroes from its currency. 
The "solution" was announced last night (July 25) by president Nicolás Maduro. It's part of currency reform that was scheduled for June and has already been postponed twice. Now, the new currency is set to start circulating in August. 
The current "bolívar fuerte" banknotes—ranging from 1,000 to 100,000—will stop circulating, and the new "bolívar soberano" ones—ranging from two to 500—will start being printed. Venezuela is also minting new coins, with one soberano coin worth 100,000 fuertes. Maduro showed some of the new notes during his televised speech.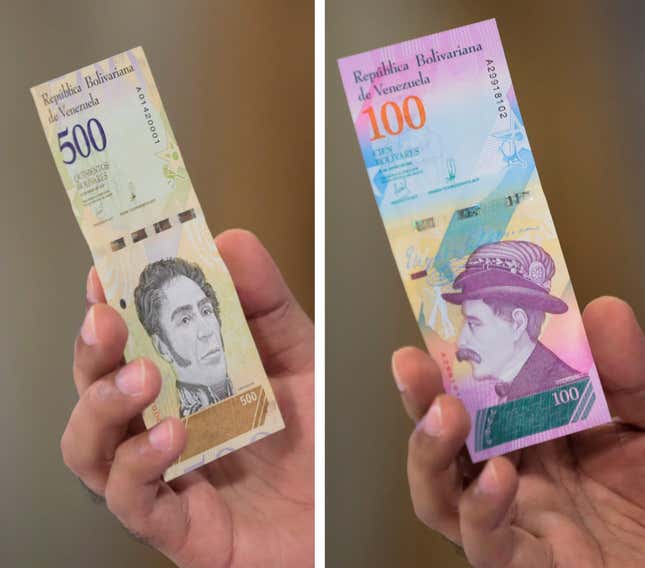 That cup of coffee will cost just 20 bolívares after the reform. Still, the country's crisis will be far from solved. Venezuelan economists (link in Spanish) criticized the plan, calling it a short-sighted measure that doesn't really solve the structural issues behind the hyperinflation corroding the economy.
If nothing besides the banknotes change, one analyst said, the government might have to cut five more zeros in a matter of months, if not weeks. The original reform, made public earlier this year, involved slashing just three zeroes.
Earlier this year, the International Monetary Fund predicted inflation in the country would reach the five-digit mark, jumping form 2,820% in 2017 to 12,870% in 2018. This week, the IMF said the rate would actually reach the seven-digit mark, mentioning a symbolic 1,000,000%–similar to Germany's rate in the 1920s and Zimbabwe's in the 2000s.
What those numbers mean in practice is that Venezuela's currency is practically worthless. Just one US dollar can buy millions of bolívares. The Economist reported earlier this month that Venezuelans are selling handbags, purses, and hats made of bolívares, because the Colombian pesos they get from the sales are worth way more than the banknotes used in the products.
Maduro also said the bolívar soberano will be "anchored" to the petro, Venezuela's attempt at creating a sovereign cryptocurrency. He didn't give much detail about what exactly that means.