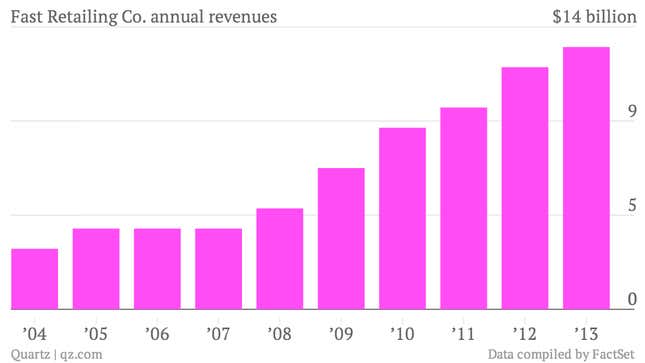 The numbers: Fast Retailing, the Japanese parent of fashion chains Uniqlo and Theory, posted group profit of ¥564 billion (about $5.8 billion) for its 2013 fiscal year. That's up 18.6% from the previous fiscal year. Fast Retailing's total sales rose 23% to ¥1.1 trillion, driven by Uniqlo's international growth. The company forecasted a 19.8% increase in profits for the 2014 fiscal year.
The takeaway: Sales surged in China, Hong Kong and Taiwan, as Uniqlo opened 102 new stores in the three countries. The company plans to expand further in these countries in 2014 with 98 new stores. Elsewhere, unseasonable weather hampered consumer spending in South Korea and the US, where sales fell short of expectations. The company still plans to continue its expansion in those countries, adding 15 stores in the US and 30 in South Korea over the next year. In addition to new stores, Uniqlo increased its same-store sales. Japan, the brand's most established market, reported 7.3% same-store sales growth year-over-year. Fast Retailing also added a ¥15.5 billion foreign exchange gain to its profits, thanks to the weak yen.
What's interesting: Uniqlo might have to cut down on its penchant for periodically selling merchandise at deep discounts at "flash sales." The company's president said it would change its marketing "to focus on quality materials and high-function garments, rather than on price." While top-line growth for the company has been extraordinary, stores in Japan actually recorded a 5.4% decline in operating income year-over-year. That's a big deal, since Japan still accounts for almost two-thirds of Uniqlo's operating income. (Operating income is a key measure of corporate profitability.) The company said that aggressive promotions and traditional season-end discounting led to the decline, since customers were attracted primarily by items on sale.