A press release today from Fingerprint Cards, a publicly-listed Swedish company, said it would be acquired by Samsung for $650 million, well above Fingerprint's market cap of $420 million. Fingerprint's stock soared by over 50% in a matter of minutes, adding $200 million to its valuation. The narrative sounds believable enough—Apple recently introduced fingerprint sensors in its news iPhone, and if Samsung wanted to catch up in a hurry, buying a company that already makes the technology would be the fastest way to do it. It seemed almost too good to be true.
It was. A baffled Samsung denied any talk of a takeover, a now-deleted press release on Fingerprint's website notwithstanding. Cision, the company that handles Fingerprint's press releases, called the release "completely false" and said it is investigating the release. Fingerprints chimed in, too. Sweden's financial authorities have cancelled all trades between 10.17am local time, soon after the announcement was made, and 10.34am, when the exchange automatically halted trading for extreme volatility.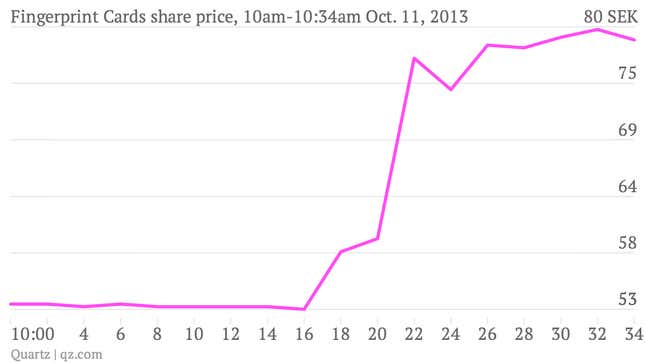 This sort of thing is not rare. A fake press release about an Australian mining company earlier this year wiped A$314 million off its market value. Purporting to be from Australian bank ANZ, it turned out to be the work of an activist group protesting the development of a mine. Last year, press release distributor PRWeb published a fake release claiming that wi-fi provider ICOA had been acquired by Google for $400 million. And in April, another distributor, PRUrgent, published a release claiming that the Chinese firm Baidu was acquiring Zynga. The list is depressingly long.
What makes today's story different is that it was more plausible than some of the previous ones. And the release appeared on Fingerprint's own website as well, which gave it a great deal more credibility. (Fingerprint told The Verge that "It is also Cision that links all PRs to our webpage.") The police have been asked to investigate.