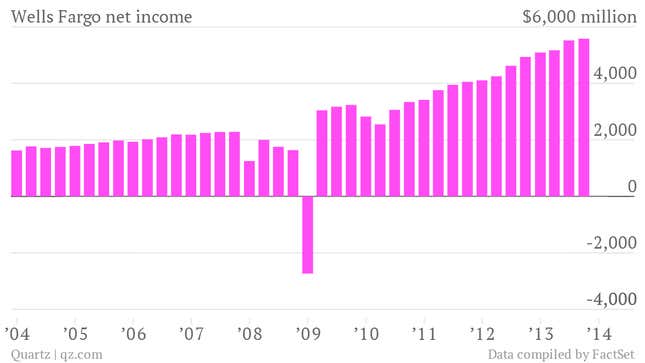 The numbers: Wells Fargo, the largest mortgage lender in the US, posted slightly better-than-expected earnings for the third quarter: $0.99 per share versus the $0.97 per share Wall Street expected. Revenue fell slightly from $21.4 billion in the second quarter to $20.5 billion; it was also about 3% lower than last year.
The takeaway: Solid, not spectacular. Weakness in the housing market, fed by concerns that the US Federal Reserve could cut back its extraordinary attempts to push interest rates to the floor, is concerning for a bank that relies heavily on originating mortgages. Shares had fallen nearly 2% in pre-market trading. Even so, Wells Fargo's profits during the quarter actually rose steadily from last year and last quarter to $5.58 billion, suggesting that the bank is finding a way to keep its performance strong despite uncertainty in the market.
What's interesting: Wells Fargo has seen a massive increase in mobile users since last year. Roughly 23 million of its customers did their banking online in August 2013, up 11% from a year before. Wells Fargo now says 11.5 million of those customers are active mobile banking users, up 29% from the same period in 2012.