China has some of the least affordable housing in the world—it's now home to seven out of 10  of the world's most expensive housing markets. As a result, thousands of poor urbanites, many of them migrant workers, squeeze into slum-like villages or group apartments. According to the last census, 17% of urban households were living in spaces of less than 13 square meters (139 square feet) in 2010.
Good thing a state-owned property developer from Shanghai announced today that it's investing in a 15-tower property project that includes low-priced housing. Except that it isn't being built in China; it's slated for Brooklyn, New York City. Half of the units in the first residential tower to be built will house poor and moderate-income American families. Greenland Holdings Group said in a statement that it is purchasing a 70% stake in the Atlantic Yards Apartment Project, near the Barclays Center, the stand-out sports arena built last year. The project, led by Forest City Ratner, is expected to cost almost $4 billion. (It still needs the approval of Chinese regulators and possibly US officials as well.)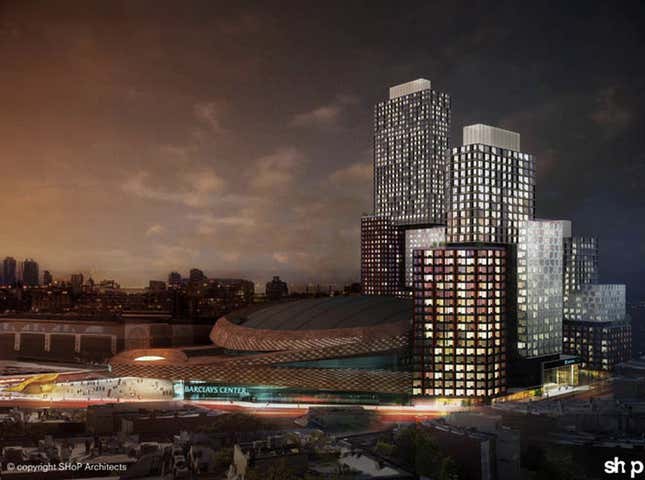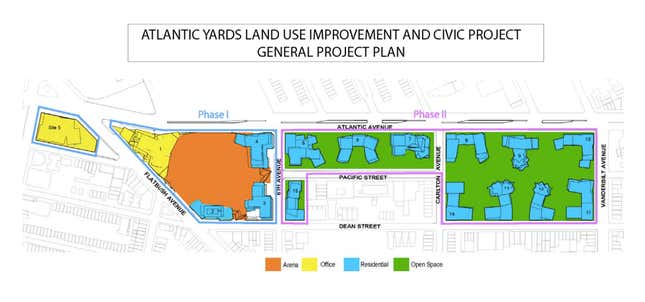 Why would a Chinese company invest in affordable housing half way across the world, despite the dire need for those developments at home?
For one, slower economic growth in China is prompting property developers and investors to enter more deals in the US (paywall) where the economy is recovering and the real estate market looks cheap. Greenland's investment follows a slew of others: So far in 2013, Chinese investment in US real estate has reached $1.7 billion (paywall), up from $1.1 billion for all of 2011 and $22 million 2008, according to Real Capital Analytics. (Projects include Zhang Xin's purchase of a stake in the General Motors building in Manhattan; China Vanke's help developing condos in San Francisco; and Greenland's investment in a hotel and apartment project in Los Angeles.)
Greenland's focus at home has chiefly been in the high-end sector, not public works. A government audit released in August found that property developers used almost $1 billion intended for building affordable housing on things like advertising or paying off loans. It was a program that premier Li Keqiang said would be a test of the government's credibility. No doubt Greenland won more favorable terms for its investment in Atlantic yards, since New Yorkers have been asking to speed up the development of low-priced housing promised by the project. Meanwhile, in China, Greenland's latest endeavor is a 636-meter (2,087 feet) skyscraper for luxury apartments and office space in Wuhan, which will top China's current tallest skyscraper, the Shanghai World Financial Center.