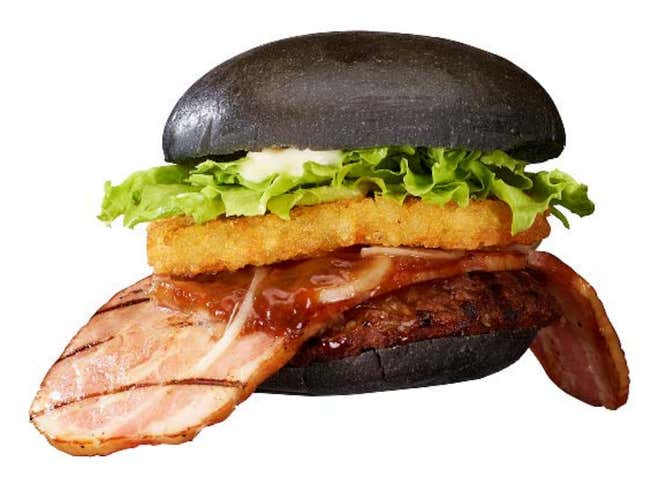 The global success of McDonald's shows that, like politics, fast food is local. Though that often involves little more than slapping a "Mc" on the local favorite—e.g. McSpicy Paneer in India, McMollete in Mexico, Le Croque McDo in France—that seemingly foolproof formula helped it keep growing through the global downturn (pdf, p.11).
Burger King is one-upping McD's, though, as reported by RocketNews 24. Instead of bastardizing national foodstuffs, Burger King is going a step further. With the rollout of Kuro Ninja ("Black Ninja") (pdf), BK Japan is burger-ifying a national icon (complete with an inexplicable protruding tongue):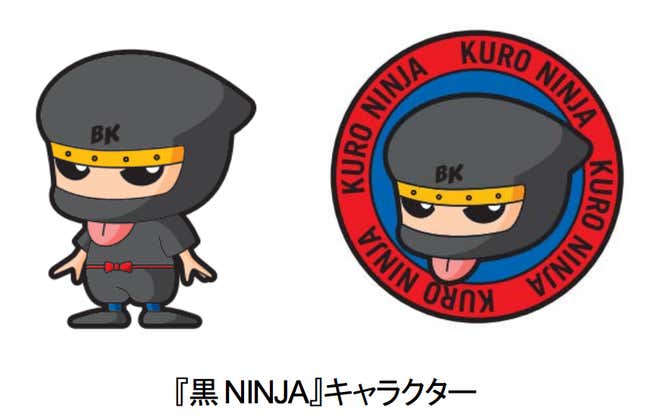 How does a fast food chain fashion a ninja out of a burger? First, naturally, by blackening the bun. This is achieved not by leaving the toaster on too long, but by coloring the dough with bamboo charcoal. BK's approximation of a ninja tongue is a long slab of bacon flopping lewdly out of the burger (again, we're baffled by the idea that long tongues are typical of ninjas.) The rest is a hash brown patty and the regular fixings, topped off with Chaliapin sauce (named after a Russian opera singer), as RocketNews24 explains. As of October 25, Kuro Ninja can be had for ¥680 ($6.93).
This may be part of BK's "commitment to menu innovation," which management emphasized in its Q2 earnings call. The company seems intent on grabbing market share from the far more popular McDonald's. BK added 20 stores in Japan in 2012, bringing the total to 64.
That commitment probably explains why Kuro Ninja isn't a totally new invention. If its sire was the Kuro Burger—a ebony-bunned Whopper slathered in "Black Flavored Ketchup" (ketchup plus garlic and squid ink)—the dam appears to have been Big Bacon Whopper (that's where the "tongue" originated). BK Japan's menu of out-there items also includes its "Garlic Meat Beast" and Double Garlic Cheese line, BK RiNGO, a beef hamburger dressed with cinnamon-dashed apple chunks, and the fried pumpkin, bacon, beef and mixed-nut sauce melange that was BK Pumpkin.
But given how frequently it's been rolling out wacky new sandwich concepts, BK Japan might have a problem with taking innovation too far. This time? Well, you be the judge.