Hoping to avoid a repeat of the 1999 storm that killed nearly 10,000, India's government has evacuated 525,000 people in the path of the giant Cyclone Phailin. The storm was expected to make landfall at about 8 p.m., Indian Standard Time (IST), or even later according to Indian officials, but according to at least one satellite measurement it had already crossed the coastline by 12.30 UTC, or 6 p.m. IST, and an image appears to show its center as already being over land at 2 p.m. EST, or 7.30 p.m. IST: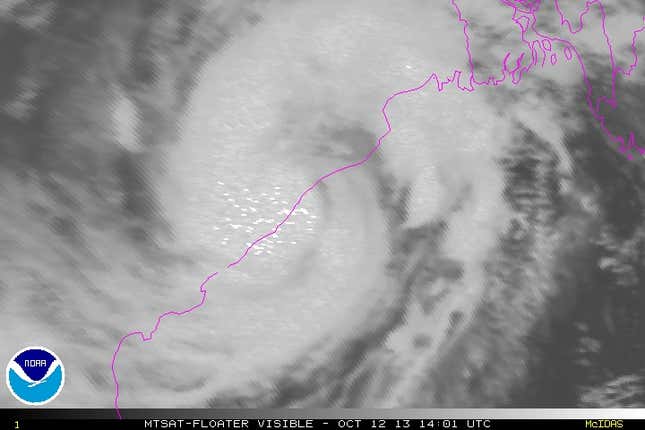 In the state of Odisha, 425,000 people have been evacuated, while 100,000 have been moved in Andhra Pradesh, Indian home secretary Anil Goswami told reporters in Delhi on Saturday (Oct. 12) afternoon.  "If people do not move, force will be used to evacuate them," Kamal Lochan Mishra, Odisha's disaster manager, said Saturday.
India was so under-prepared for a 1999 storm that struck Odisha that hundreds of fishermen lost at sea were among the dead, in part because India's own satellite weather system was destroyed. Cyclone Phailin, on the other hand, is being closely tracked by officials and local and international media, and the central government has mounted a massive disaster-preparedness campaign.
Bitterly divided factions within Andhra Pradesh, who were clashing earlier this week over the carving out of the separate state of Telangana, have laid down their differences for now. Thousands of striking government workers ended their strike to prepare for the storm, joining military units and thousands of other emergency personnel.
The cyclone has already passed over the Andaman Islands, India's sparsely-populated island chain that has become a laid-back vacation spot, cutting power, stranding school children and capsizing fishing boats, according to Andaman local news, but there were no early reports of casualties there.