Earlier this month, Italy granted citizenship to 143 foreigners. It won't be much use to them, though: The new posthumous Italians all died on Oct. 4, when the boat carrying them from North Africa to Lampedusa, an Italian island, caught fire and sank. Some others survived, but as Pablo Ordaz writes in El País (Spanish), their welcome was somewhat colder. Authorities are charging the 114 survivors with illegal immigration, which could incur a fine of up to €5,000 and a forced return to their home country.
It seems dying is pretty much what you have to do to get citizenship these days. Even as another boat just sank off the coast of Malta, bringing the combined death toll of the two incidents to nearly 400, the EU and countries along the Mediterranean have made the crossing more perilous than ever.
Most migrants aren't victims of "human trafficking"
To listen to many European officials, the "bad guys" in all this are "human traffickers," the people who arrange passage to Europe ("trafficking" implies moving people by fraud or force, versus "smuggling," which means accepting pay to facilitate illegal migration). But the vast majority of people making the journey are usually doing so in search of improved working conditions or because of persecution. They're not involuntary trafficking victims. Aware of the stakes of finding a better life, they're taking a calculated risk.
The EU has spent many millions keeping migrants from entering by land
Those risks have increased thanks to recent EU policy that has beefed up patrol of land borders, sealing off a more common route to the EU. Frontex, the border patrol agency the EU created in 2005, budgeted a combined €20.9 million patrolling land borders in 2011 and 2012—more than it did from 2006 to 2010 combined: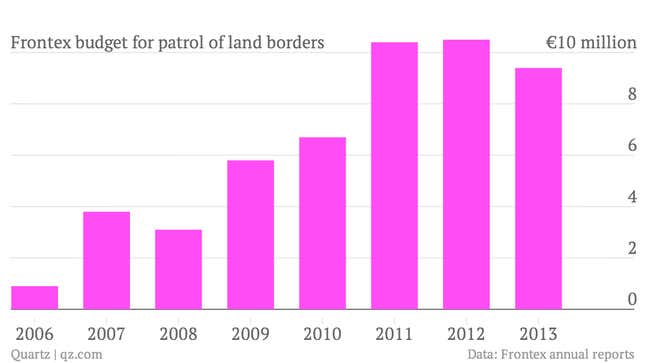 The more dangerous the route, the more migrants need "smugglers"
Those moves have pushed migrants to travel more and more by sea instead. Traveling by sea is more dangerous, which is why tighter land borders have "increased the vulnerability of migrants, their reliance on smuggling and caused the deaths of an estimated number of at least 17,000 people over the past two decades," as Oxford professor Hein de Hass argues.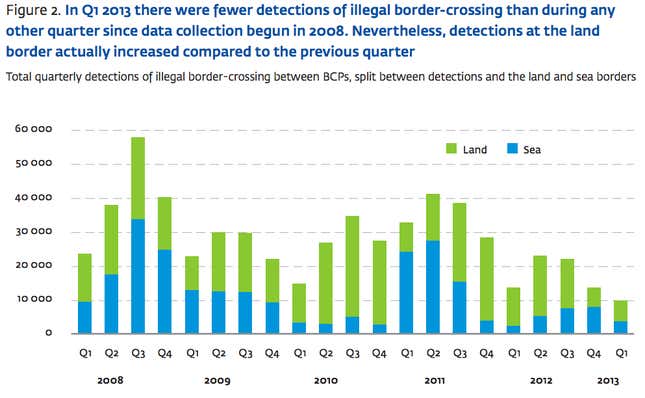 European maritime forces are focused on security, not saving lives
The current law allows European patrol officers leeway in determining when a boat is "in distress," reports Deutsche Welle. Italian coastguard officials "refused to take on board some people we'd already saved because they said protocol forbade it," a fisherman who witnessed the October 4 disaster told Ansa News, as reported by the BBC. On top of that, Italian members of parliament say that parts of the illegal immigration law implicate those who help migrants in distress. (Many residents of Lampedusa still rescue migrants anyway.)
More and more focus on returning migrants
EU governments have been furiously signing treaties to return migrants to the countries from where they embarked. Frontex's budget for "return operations" is €10 million (pdf, p.3)—four times what it was in 2008, even though it doesn't deter many from trying again. The captain of one of the ships that sank recently had been sent back to Tunisia after having landed in Italy. It does, however, risk exposing them to criminal punishment or persecution in their home countries.
Current law discourages asylum claims
Though Frontex agents often decide whether to report asylum claims (pdf, p.17) to immigration authorities, they have no duty to pass this information on. Since migrants frequently lack identification, it's easy to dismiss their claims. And current regulations require that refugees claim asylum in the first European country where they land—usually Italy, Malta or Spain—even though "most migrants do have contacts, relatives, friends and opportunities for support and work" in other countries, Laura Zanfrini, professor of sociology at the Catholic University of Milan, told Quartz.
It also makes it hard to migrate legally
Rigid immigration laws throughout the EU (pdf, p.3) make it hard for migrants to legally enter Europe. Even though the number of migrants to Europe has generally fallen since the great recession—2011 was a big exception due to a surge in migrants from Tunisia and Pakistan—the EU's high unemployment rates make politicians unwilling to open more legal immigration channels.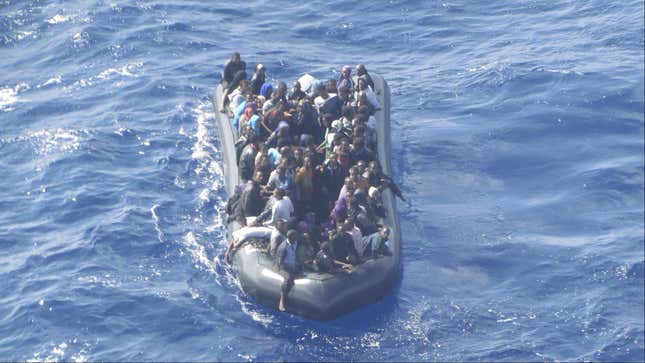 And the EU is about to make it much harder to enter by sea
By the end of 2013, the EU will launch Eurosur, as its $460-million European Border Surveillance System is known. The program will use drones and satellites to monitor the Mediterranean, dispatching coast guards when they see boats. Many are hailing it as a move to "help in saving the lives of those who put themselves in danger to reach Europe's shores," as Cecilia Malström, EU home affairs commissioner, put it. Others differ. "Eurosur is to serve the battle against illegal migration," Ska Keller, a Green Party member of the European Parliament, told Deutsche Welle. "It's not at all for rescue operations, as is now being portrayed."
Politicians are blowing the threats of African migration way out of proportion
Given all that spending, you'd think Mediterranean shores are the single biggest point of entry for illegal migrants, that most illegal migrants are poor Africans and that the numbers of migrants is climbing. Here's what's really going on:
The single biggest point of illegal entry isn't Lampedusa: it's European airports.
From 2009 to 2012, the nationality crossing European borders in the largest numbers is… Albanians.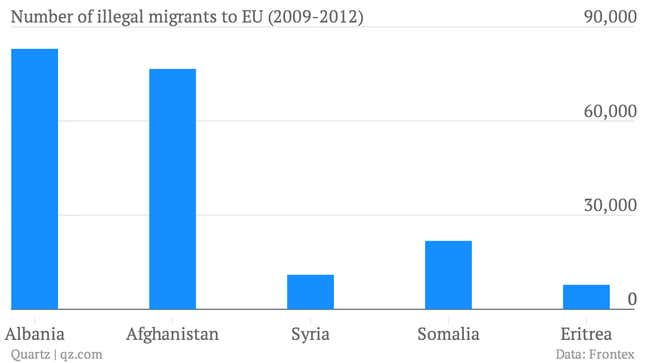 The number of people illegally crossing the border in 2012 was down 69% from 2010, according to Frontex (pdf, p.67) and was less than half what it was in 2008 (pdf, p.11)—even in frontline countries like Italy. "Arrivals from Africa during and after the Arab Spring have been highly emphasized by the media system but in substance have not been statistically significant as to impact on the whole level of [illegal migration]," says Catholic University's Zanfrini. "In the more recent years irregular entries and stays have been decreasing."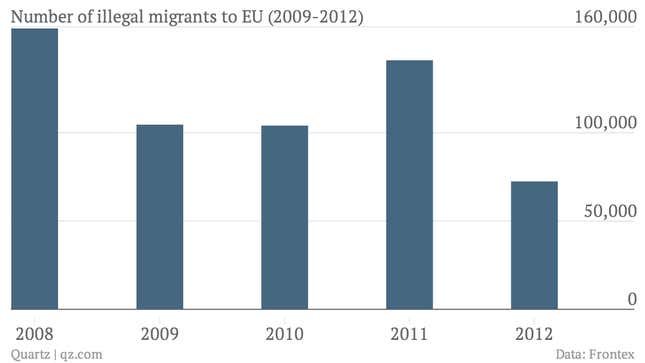 With the exception of humanitarian refugees, most migrants move to Europe when there are job opportunities, which explains why their numbers have been generally falling since the onset of the financial crisis. Many take jobs that native workers are unwilling to do—things like fruit-picking and house-cleaning, which lie in Europe's vast shadow economies.
Here's what "combatting human trafficking" really means
Unless the EU presents an alternative to smugglers—ideally, more legal immigration and asylum channels—the aim of "combating human trafficking" with Eurosur and beefed up Frontex budgets really translates as "stopping migrants from coming." And that will almost certainly result in more dead bodies in the Mediterranean.