How hard will it be to avoid catastrophic climate change? Really hard if a new report from the Asian Development Bank is any indication.
The bank predicts that the 48 nations of the Asia Pacific region will collectively increase their energy demand by 67% between 2010 and 2035, accounting for more than half the planet's consumption. That wouldn't be too much of a problem if, say, renewable energy was fueling that growth. But coal will remain king, accounting for 83% of energy production. Overall, coal demand will spike nearly 53% between 2010 and 2035.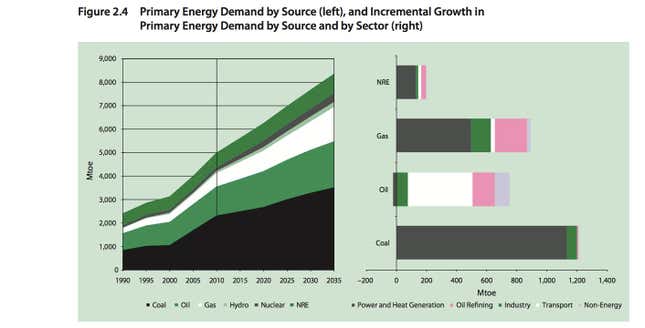 "Some members in Southeast Asia (such as Indonesia, the Philippines, and Vietnam) will encourage the use of coal, particularly in the power sector, to diversify the energy supply structure and to enhance energy security," the report states.
Environmental security, however, will take a big hit. Carbon dioxide emissions will jump 65% by 2035 to 22,113 million tons. By then, more than half the world's greenhouse gas emissions will originate from the Asia Pacific region if the bank's projections are on target.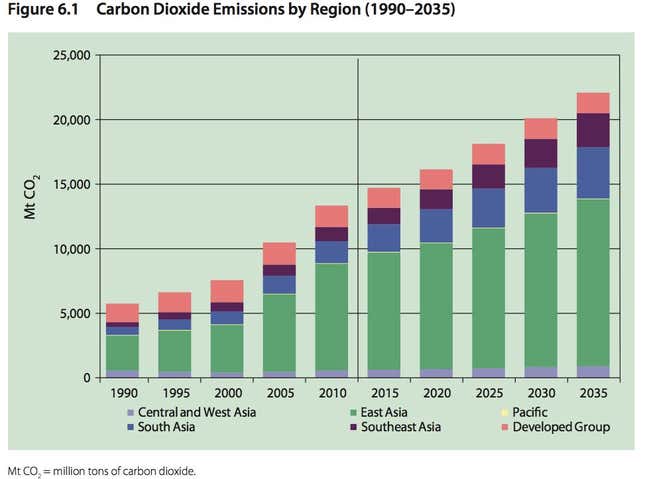 Even in the bank's greener "alternative case," which assumes more sources of renewable energy such as wind and solar come online, fossil fuels still account for nearly 75% of energy demand.
One big obstacle to greening up the region is the expected explosive growth in carbon-spewing cars over the next two decades. In India alone, the bank predicts that 118 million vehicles will be on the road in 2035, up from just 17 million in 2010.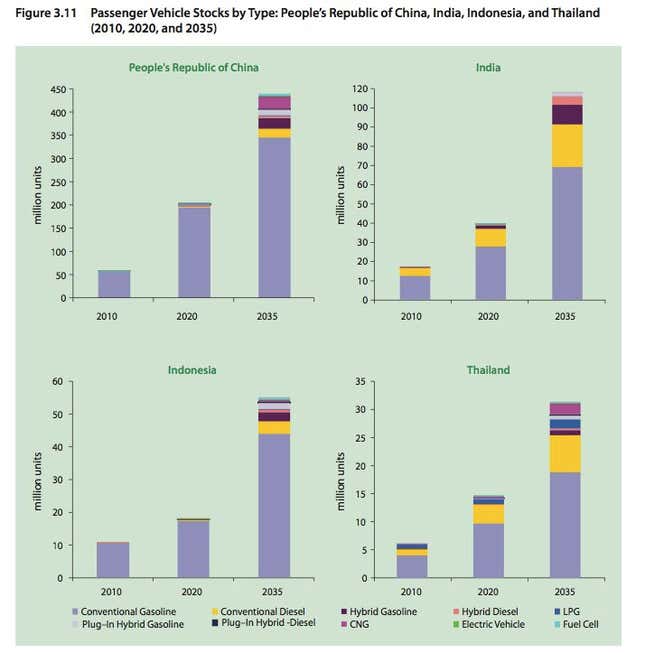 There is one thing that could slow a coal-fired power plant building boom: Cash. The region needs to find $11.7 trillion to meet the expected growth in energy demand. On the other hand, taking the greener road will be even more expensive. Nearly $20 trillion will be required to invest in energy efficiency and renewable energy.