Global investment in clean energy is falling off a cliff, according to a report released today, just as carbon emissions are predicted to skyrocket.
In the third quarter of this year, worldwide investment in wind, solar, energy efficiency and electric cars dropped 20% compared to the same period in 2012, to $45.9 billion, according to a report from research firm Bloomberg New Energy Finance (BNEF). That's also a 14% decline from the second quarter of this year and continues a downward trend from the peak in 2011.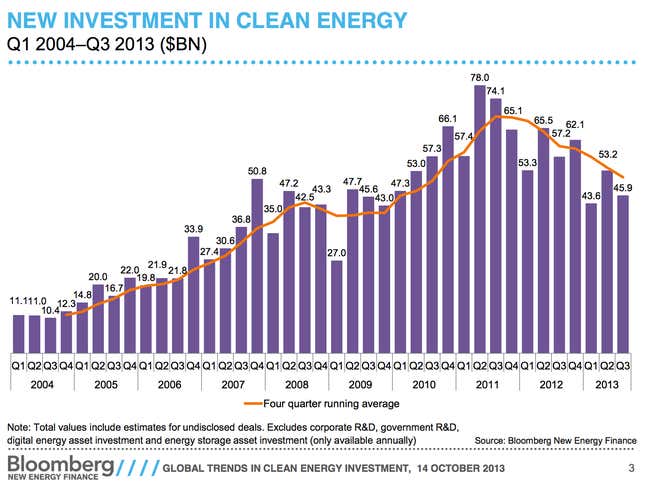 "The latest setback reflects policy uncertainty in Europe, the lure of cheap gas in the US, a leveling-off in wind and solar investment in China, and a general weakening of political will in major economies," BNEF chief executive Michael Liebreich said in a statement. "Governments accept that the world has a major problem with climate change but, for the moment, appear too engrossed in short-term domestic issues to take the decisive action needed."
One worrying sign: Venture capital firms, which typically take the risk of investing in unproven but potentially transformative technologies, are keeping their checkbooks closed. Venture capital and private equity investment fell more than 44% to $724 million in the third quarter from the second quarter of the year and was down 34% from the third quarter of last year. According to BNEF, that's the lowest level of venture capital investment since 2005.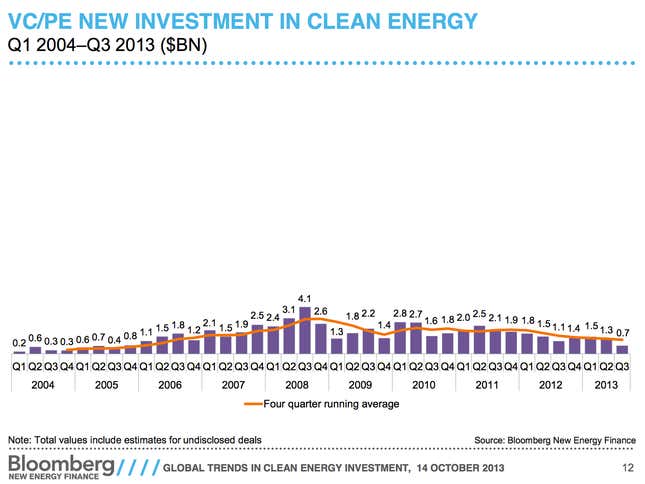 In the US, long the driver of green energy technologies, total investment in the third quarter dropped by a rather stunning 41% to $5.5 billion from the second quarter. Even in China investment fell slightly to $13 billion from $13.8 between the third and second quarters despite the country's much-publicized intention to ramp up renewable energy production.
One bright spot: Brazil. Investment in clean energy technologies rose from $950 million in the second quarter of 2013 to $1.1 billion in the third quarter.