While on a trade mission to China, Britain's finance chief announced measures to "simplify and streamline" the visa process for Chinese visitors to the UK. Chancellor of the Exchequer George Osborne unveiled a three-part pilot scheme yesterday:
Access to the UK on the EU-wide Schengen visa, instead of a separate form that is more complicated, expensive and valid for a shorter time than for other EU countries
A "super priority" visa with a 24-hour turnaround
Mobile visa services, which collect documents, fingerprints and photographs from prospective travelers, beyond just Shanghai and Beijing
In a speech, Osborne noted, pointedly, that there is "no limit" on the number of Chinese tourists, students and businesspeople allowed into the UK. The relative difficulty of visiting the UK compared with France, Italy and other European tourist hot spots has been a long-running gripe of British businesses. Given Chinese tourists' formidable appetite for shopping while abroad, it's not surprising that retailers—especially luxury retailers—cheered the visa changes today.
One place where the changes won't go down well, however, is India. Earlier this year the British government announced a controversial plan to impose a £3,000 ($4,800) deposit for Indians and others visiting from countries deemed "high risk" for overstaying their visas. Amid the subsequent outrage, the policy generated a split in the UK's coalition government, with its passage now in doubt.
Regardless of the outcome, the British government's attitude is clear. Prime minister David Cameron's trade trip to India earlier this year was the largest ever, rife with the same rhetoric about partnership and collaboration that Osborne is spouting as he travels across China. But the follow-through on sensitive visa issues with the two giant trade partners tells a much different story. A look at the numbers explains why:
Far more visitors from India than China visit the UK every year…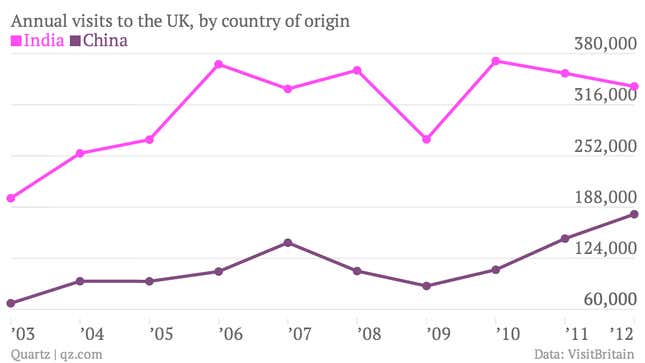 … which means visitors from India spend more than visitors from China …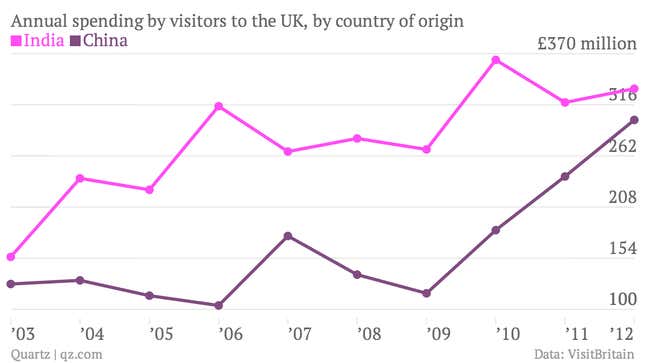 … but visitors from China spend much, much more per trip than visitors from India, and are quickly catching up in total spending