At an event in Brooklyn, New York, today (Aug. 9) Samsung unveiled its latest oversized smartphone, the Galaxy Note 9.
The phone very much follows the design and utility of older models, updating much of the internals to produce a faster mobile experience.
The Note 9 will start at $1,000, and will be available for preorder from midnight. The phones will be in stores Aug. 24.
The device will come in metallic shades of purple and light blue. Curiously, it will not be released in black in the US, which Samsung attributed to research into its consumers' preferences. (It will also come in black and copper in other regions.)
The phone has a vastly similar design to the Note 8—Samsung said it is minutely larger than last year's model. The Note 9 features a 6.4-inch high-resolution AMOLED display, about 0.1 inch larger than the 8. It also features two 12-megapixel rear-facing cameras, much like the Galaxy S9 Plus, released earlier this year.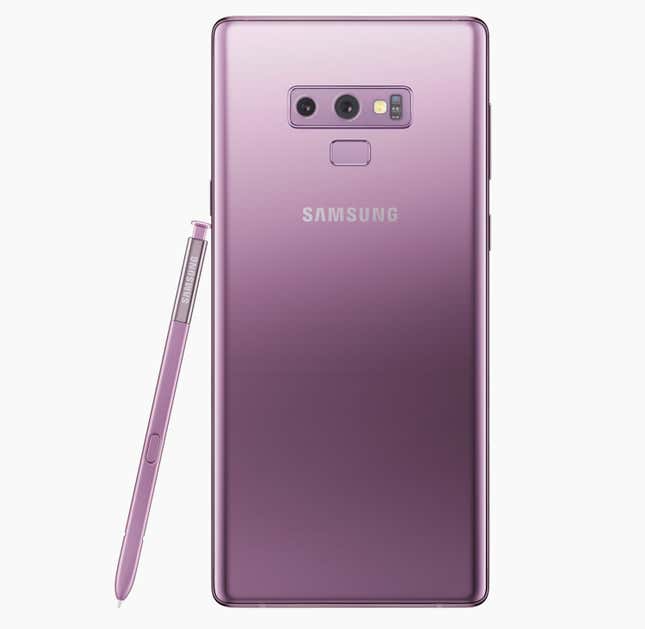 Although not much has changed on the outside, the Note 9 features a massive 4,000 mAh battery (a step up from last year's 3,300 mAh), which the company says should last a full day. The phone will also come with 128 GB storage and a slot for an SD card that's expandable to 1 TB. (Samsung will also produce a 512 GB model.) The Note also features 6 GB of memory, meaning the device should feel as snappy as any on the market.
That will be a nice complement to Samsung's other big announcement at the event: Note 9 and Samsung customers will have exclusive access to the international gaming sensation Fortnite before any other Android device. Users will be able to head to Samsung's games store to download it from today, and the company has exclusive rights to the game until Aug. 12, after which any Android owner will be able to download it from Epic Games' website.
Like previous iterations of the Note, the 9 comes bundled with a removable S Pen stylus, which can be used to control the device, take notes and draw on it, and now, as a remote. The new Pen has a button that can be programmed to perform different functions depending on what app is open—in the camera, it can be a remote shutter; in PowerPoint, it can act as a clicker.
Samsung seems to envision the Note 9 as a true replacement to the laptop. Along with the last few phones Samsung's released, it's unveiled various docks and hubs for its DeX mobile workstation software, where plugging in the phone to an external monitor turns it into a rudimentary desktop computer. Samsung has continually worked on the software for the last few years, and on the Note 9, all that users need to turn their phone into a computer is a simple USB-C to HDMI adapter. (Samsung sells one for $50, but there are countless versions online for far cheaper.) Samsung told Quartz that the Note 9 can handle up to seven Bluetooth connections, meaning you could connect a keyboard, a mouse, and wireless headphones, and still have four more connections available.
Whether users will want to replace their laptops with a large phone, however, is another matter. Samsung will be hoping that the Note 9 will entice potential customers—whether it's the powerful processors and big screen for mobile gamers, the sharp cameras for uninspiring Instagrammers, or the productivity software for road warriors—given the reportedly lackluster sales of the Galaxy S9 so far this year.