Although a trench coat and a computer are hardly comparable products, Burberry and Apple's retail journeys have been remarkably similar in recent years. This makes today's appointment of Burberry's CEO, Angela Ahrendts, as Apple's new head of retail more understandable. It also offers some clues on what Ahrendts will do to steer Apple's retail strategy.
Ahrendts has long looked to Apple for inspiration during her eight-year stint as head of the venerable luxury fashion house. She said as much in a 2010 interview with the Wall Street Journal:
If I look to any company as a model, it's Apple. They're a brilliant design company working to create a lifestyle, and that's the way I see us.
Apple and Burberry share other similarities beyond their ambitions to be lofty "lifestyle" brands (as opposed to grubby product companies). Not so long ago, both spent time in the wilderness with debased brands that fell prey to resellers, license and franchise partners. Both companies took tighter control of their brands and emphasized direct retail channels, with Burberry buying back licenses after Ahrendts joined in 2006.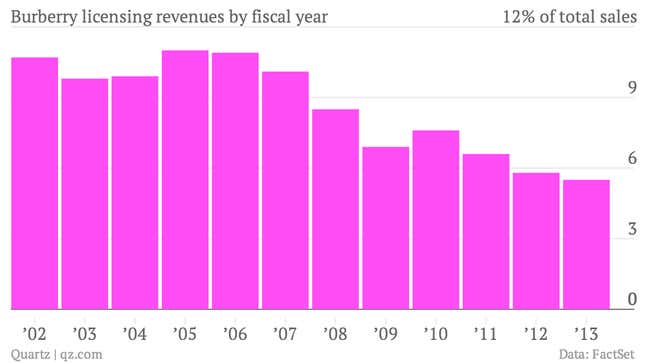 Apple opened its first retail store in 2001 and launched its online iTunes store in 2003. This gave the company much more control over its brand identity and cut out intermediaries between the company and its customers.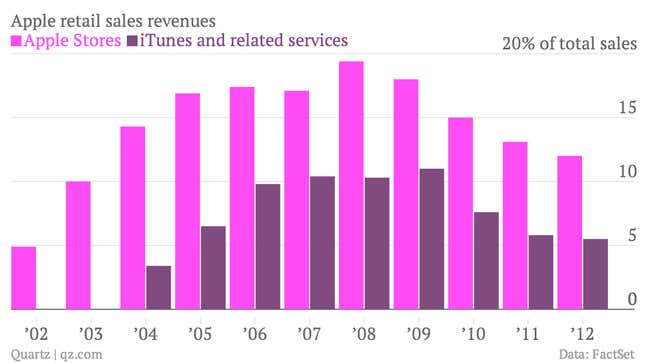 These strategies boosted sales and profits at both firms, paying off handsomely for shareholders.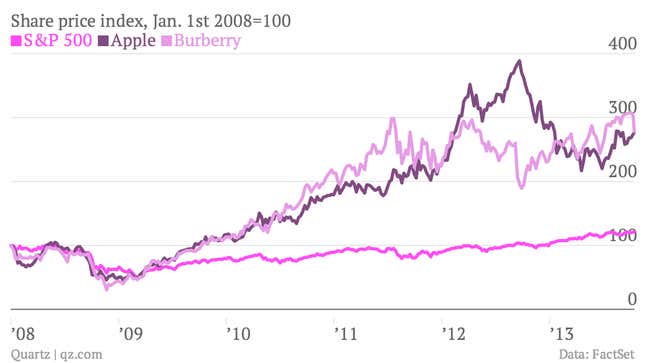 On its face, Burberry has learned more from Apple in recent years than the other way around. Ahrendts's embrace of technology has set her apart in the staid luxury industry. Burberry's flagship London store, for instance, is stuffed with whizzy digital displays and iPad-toting assistants. So what will the Cupertino-based technology giant gain from the experience of Ahrendts?
Ahrendts made courting millennial consumers one of her key objectives by rendering Burberry's heritage in a modern way—no small feat for a 157-year-old brand. Burberry's shrewd, unified approach to brand identity—a skill cherished by luxury retailers—holds lessons for Apple. The technology firm's cool design aesthetic and friendly, efficient stores stand in stark contrast to the cluttered, clunky iTunes and App Store experience. And although there are plenty of Apple superfans out there, the common Apple customer's relationship with the company is much more transactional than the emotional bond Burberry buyers have with the brand.
Ahrendts will be the first executive at Apple to oversee both online and offline retail operations. To this end, here is a telling quote from another Ahrendts interview:
Digital is not an afterthought. Our design teams design for a landing page and the landing page dictates what the store windows will look like, not the other way round. In creative media, they're shooting for digital, then we are turning it back to physical.
While a bit of Burberry magic may give Apple's stores added elegance, her biggest contribution will be forging even stronger bonds between Apple and its customers, both in store and (especially) online. Burberry has more than 16 million Facebook fans and two million Twitter followers.
Ahrendts is not the first executive Apple has poached from the luxury industry—Paul Deneve of Yves Saint Laurent joined earlier this year, reportedly to help design a smart watch. Deneve was likely brought on to make Apple's next-generation products look good. Ahrendts will use her considerable digital marketing savvy to make customers feel good, so much so that they won't be able to resist a purchase—and the chance to tell all their friends.