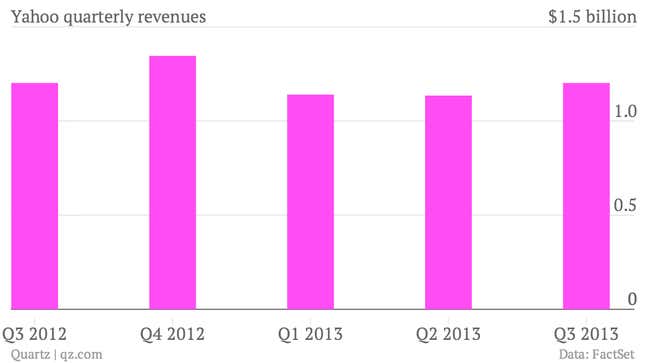 The numbers: Mixed. Yahoo reported third quarter earnings of $173 million, down 27% from a year ago. But on a per share basis, earnings of $0.34 were ahead of $0.33 consensus among Wall St analysts, according to FactSet. Its revenue, $1.09 billion, slightly bested expectations of $1.08 billion. Shares have whipsawed in post-market trading as the market digests the results.
The takeaway: The performance of Yahoo's search and display businesses look mixed, but this was largely expected. Total search revenues fell 8% to $435 million. Paid clicks were up, but offsetting this, the price per click declined, weighed down by increased emerging markets traffic, where ad rates are lower. Display revenues fell another 7% to $470 million. There was no mention of Tumblr in the earnings release, but details may be forthcoming on the upcoming conference call.
What's interesting: Yahoo struck a new deal with Alibaba that reduces the maximum number of shares it's required to sell in the Asian e-commerce giants looming IPO—from 261.5 million shares to 208 million shares.  That gives Yahoo continued exposure to the highly-valued asset, which by many measures is worth more than Yahoo itself.