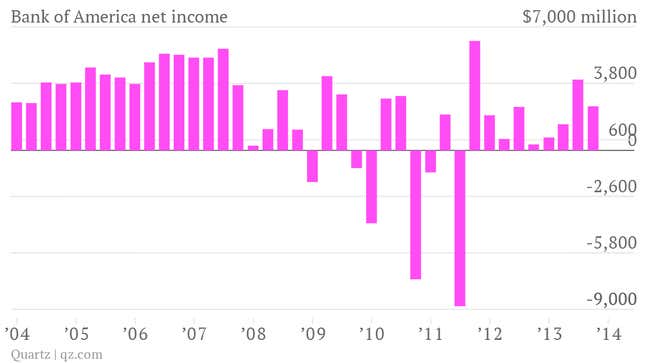 The numbers: Bank of America reported today that it saw profits of $2.5 billion in the third quarter, up from just $359 million a year ago. That works out to earnings of $0.20 per share, which looks a lot better than earnings of zero a year ago.
The takeaway: Hey, it's better than nothing. BofA's earnings per share still come in well below those of its Wall Street peers and missed analyst predictions. Like Wells Fargo and Citi, Bank of America took a sizable hit from slower mortgage growth; noninterest income in mortgage banking fell 71% (paywall) from a year ago and 50% from last quarter.
Wealth management, however, was a bright spot for the bank. Although profits from the firm's wealth management business fell slightly from the second quarter to $719 million, it's still seeing big rewards from investment in this business. Capital allocated to wealth management returned 28.7% in the third quarter.
What's interesting: Bank of America said it issued over 1 million new credit cards in the third quarter. It also said the average US consumer spent 10.2% more on their credit cards in the third quarter than they did a year before. Are the days of easy credit coming back?