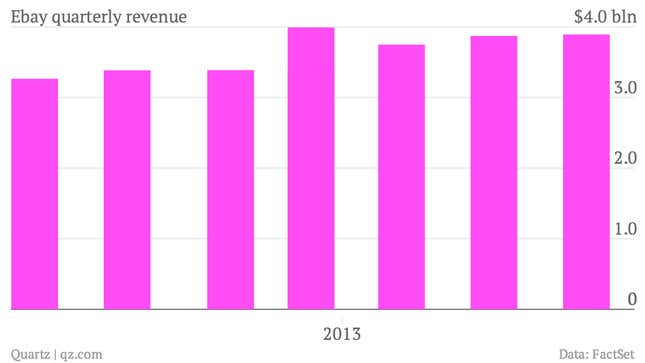 The numbers: OK. The online auction and payments giant increased revenue by 14% to $3.9 billion.  Earnings came in at $0.64 per share, just ahead of Wall Street expectations of $0.63.  Yet shares have sunk by nearly 4% in after-market trading, after the company's forecast for earnings in the next quarter underwhelmed. "U.S. e-commerce softened considerably and we have a cautious outlook for the holiday season," CFO Bob Swan told investors.
The takeaway: Much of the stronger-than-expected performance can be attributed to PayPal, which grew revenues by 19% to $1.6 billion. The company also continues to deftly manage the transition of its customers away from desktops and on to tablets and smartphones. Mobile enabled commerce volumes were up 75% in the quarter,  with the the company's mobile apps attracting 3.2 million new customers.
What's interesting: The weak forecast for the fourth quarter is all the more galling, given it encompasses the key US winter holiday shopping period. Analysts had been tipping for earnings of $0.83 per share, above the company's guidance of between $0.79 and $0.81.