Atul Vir is ready for the next Hurricane Harvey. As soon as floodwaters start rising, pumps will start channeling the incoming stream into the 60-bathtubs-worth of storage below his Houston property. Brick walls below the windows and doors will keep water up to 12 inches out. If breached, the cascading water will flow through his front door, down his dining room's sloped, tiled floor, past the living room, and into an indoor pond that drains into the sewer. If all this fails to keep water out, the Virs will move to their rooftop deck, designed to accommodate a helicopter rescue.
Vir, a 59-year-old businessman, isn't preparing for a post-apocalyptic water world, but present-day Houston. The extremes to which he's gone to protect his property highlight the city's severe flooding problem—and how unevenly it is spread across the US's fourth-largest city. Last August, when Harvey dumped one trillion gallons of rain in four days, was the third time in as many years that Vir's home got inundated.
Houston is destined to flood. The question now is how Houstonians choose to deal with it. On Aug. 25, Harvey's one-year anniversary, voters are set to decide on a $2.5-billion bond package to fund a variety of projects, from bolstering reservoirs to buying flooded-out houses. Approval would signal an unprecedented commitment to climate-change resilience among tax-averse, small-government-minded Texans.
There's still much to be done to better adapt to Harvey-sized storms, which are projected to become more common. That includes figuring out how to help those who, like Vir, repeatedly find themselves on the deep end of the floods.
Vir is taking action no matter what course the city takes. "It's the law of the jungle," he says. "Survival of the fittest."
Flood-prone Houston
Vir is probably better equipped than most to navigate the city's rising waters. He's a tinkerer by profession. He runs a company that makes refrigerators and washing machines for small spaces, doing some of the design work himself. He came up with his home's flood defenses, which are engineered to compensate for his lot's complicated physics.
His house, built in the late 1970s, is at the bottom of a cul-de-sac, on the receiving end of all the water that runs down his quiet, tree-lined street. The storm drain on his curb was useless during Harvey. Water spurted out of it instead of flowing in, a phenomenon caused by built-up pressure from the Harvey-induced gush of runoff that overwhelmed Houston's drainage system.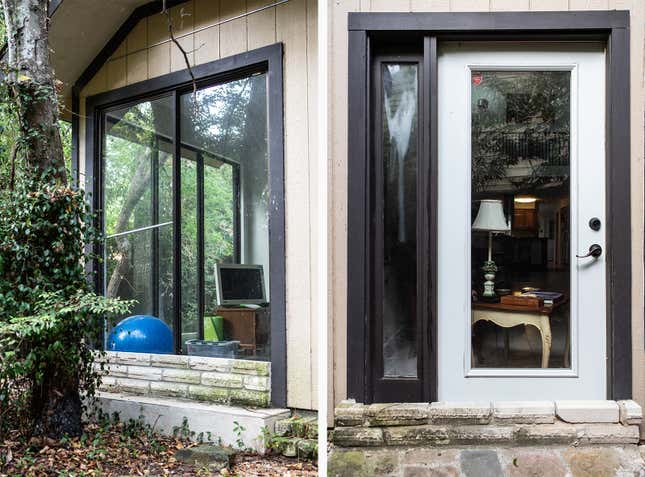 Houston, overall, is in a similar situation. It's pretty flat, so water tends to accumulate. Much of the storm drain system dates back to an era when there were far fewer Houstonians and storms were less severe. Around 40% of Harvey-induced flooding was due to drainage issues, according to Houston's chief resilience officer Stephen Costello.
Harvey was an extreme, record-setting rain event. Yet it looks like less of an anomaly compared to other devastating rains that drenched Houston the previous two years. Costello's position—he's known as the flood tsar—was created in response to 2016 floods that swamped hundreds of homes, including Vir's.
The chances of a Harvey-sized event hitting Houston in any given year are expected to grow dramatically in coming decades, from one in 2000 at the start of this century to one in 100 by the end of it, according to a Massachusetts Institute of Technology study released in 2017.
Meanwhile, the Houston area continues to expand. Its new residents will need more houses and roads, which will result in less open land to soak up rain. Paved surfaces also become a speedway for storm runoff. And the faster the water moves, the more quickly it overwhelms the drainage system, and spills over onto people's houses farther downstream.
None of that is taken into account in the federal maps that Houston uses to plan development.
FEMA's faulty flood maps
According to the flood maps put together by the US Federal Emergency Management Agency, Vir's house is in an "area of minimal flood hazard." Still, Vir's house has flooded three times and his insurance premium has gone up to $2,000 from less than $400.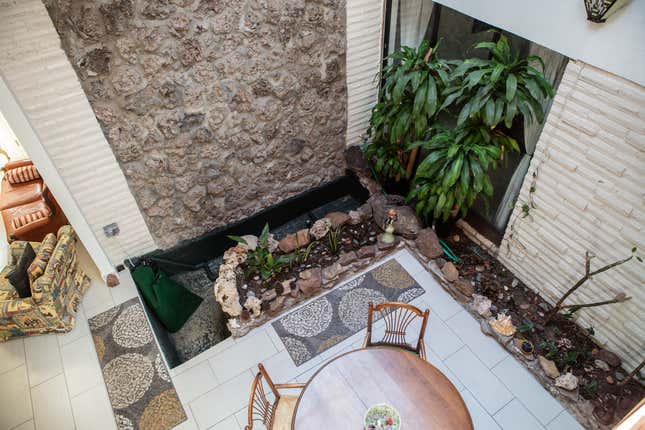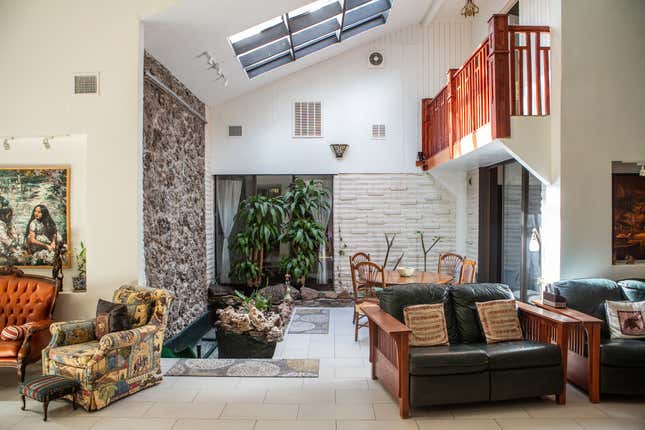 Experts say that's partly because FEMA maps assess the risk of flooding from rivers, streams, and other natural waterways, not from the man-made drainage systems that play a big role on the course stormwater takes.
The maps are not just a little bit off. A 2017 study by Rice University and Texas A&M that looked at five storms from 1999 to 2009 in southeast Houston found that 75% of the damage they caused was outside of FEMA's 100-year floodplain. None of those storms was big enough to qualify as a 100-year event.
Some flood-management experts say Houston should build its own, more realistic maps. "Land use is constantly changing. It's dynamic," says Stephanie Glenn, director of the hydrology and watershed program at the Houston Advanced Research Center, a nonprofit think tank. The data used to base development upon "should also try to be as dynamic as possible."
Costello says the city goes by the federal rules, which call for using the FEMA maps. In anticipation of some changes to the federal maps, the city has extended flood-prevention regulations required in the 100-year floodplain to the broader 500-year floodplain. As for planning for future storms, Costello asks: Which kind of storms? The mammoth rainfalls of the past three years, or the more sedate ones from the previous 10? "I can argue both ways," he says. "You can't design for every rainfall event and every rainfall event is different."
What is certain, he and others agree, is that Houston will flood again.
Ethical flood control
Costello says he's confident about the city's plans to help mitigate the damage, which include buying out houses that will likely flood again and fixing drainage problems. Current regulations, he says, also mandate that new developments add no runoff.
Costello has visited Vir's house to look at what he called its "unusual situation," but the city hasn't been able to come up with a solution. "I have two million people and there are multiple people that have flooded multiple times," he says.
There are practical limits to what the city can do, from policing developers and builders so they follow runoff rules, to addressing drainage issues like Vir's. How to ensure that what helps one party doesn't hurt another one downstream is as much an ethical as an engineering question, says Glenn: "Every single decision needs to have that equity lens applied to it."
That balancing act should extend beyond Houston's city limits, according to a new report by Rice University's Baker Institute and Severe Storm Prediction, Education, and Evacuation from Disasters (SSPEED) Center. Whatever happens in areas upstream from Houston that are expected to develop in coming years also has the potential of reshaping the situation downstream—for better or worse.
Many of the problems bubbling up now are the result of development decisions made decades ago, when regulations were less stringent. Back in 1915, someone standing on the banks of Brays Bayou, one of Houston's slow-moving rivers, would have to wait nearly six days to see all the rainfall from a 100-year storm gradually flow by. By 2000, after the area had largely been built up and paved over, a bystander would have witnessed four times the maximum level in 1915 rush through in the first 20 hours—essentially a tsunami headed for downstream neighborhoods.
"This is why Brays Bayou floods so dramatically," the Rice report states. "Harris County and the city of Houston increased downstream flooding with the approval of upstream development that did not require adequate flood mitigation, which essentially subsidized upstream development by flooding downstream homes."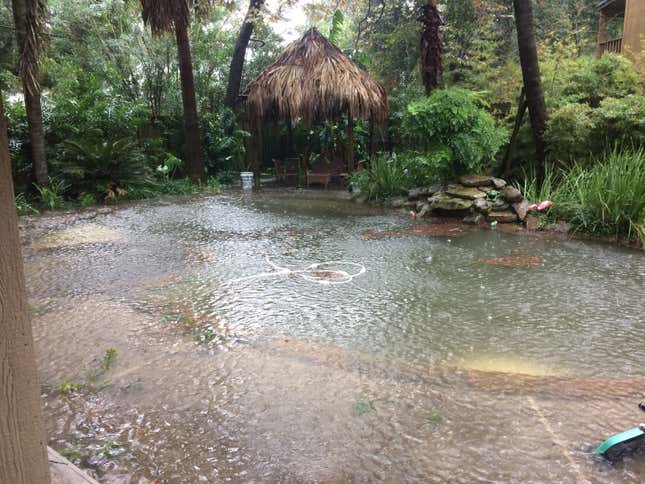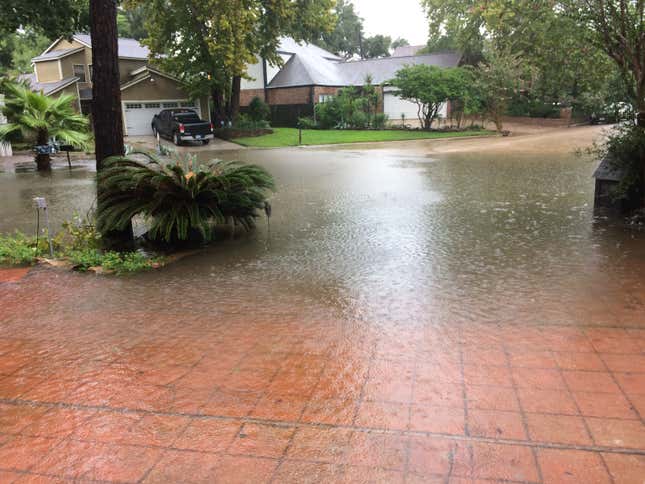 The region has since made big strides in preventing floods, experts say. But development still results in extra runoff that contributes to flooding, according to the Greater Houston Flood Mitigation Consortium, a group of local scientists funded by philanthropic institutions. They've found that the amount of water held in undeveloped areas tends to be underestimated—and so does the amount that developers are mandated to hold in order to prevent runoff, says Christoph Spieler, its project manager.
The same principle applies at street level. Builders of new houses, which are required to be up higher to avoid flood damage, don't always take enough measures to keep their runoff from pooling around a neighboring house situated lower, like Vir's.
A culture of flooding
The kind of computer modeling and data collection that could accurately and precisely predict how development on one side of the nine-county metro affects the other is still decades away. In the meantime, the most important thing Houstonians can do is accept flooding as a basic element of life in the region, says Spieler. It should guide every decision, private or public—whether it's buying a new house or granting a permit for a new subdivision.
Some of that is already happening at the official level. The San Jacinto River Authority, a water-management agency upstream from Houston, earlier this year created a flood-management department. Katy, a city 30 miles west of Houston, is considering rules that would require developers to bulk up detention infrastructure for new projects. Houston is weighing new ways of curbing runoff, including awarding "detention" credits to green projects.
"It's actually remarkable the degree to which Harvey has led to real action," said Spieler. "It has shaken the city in the way that previous events didn't."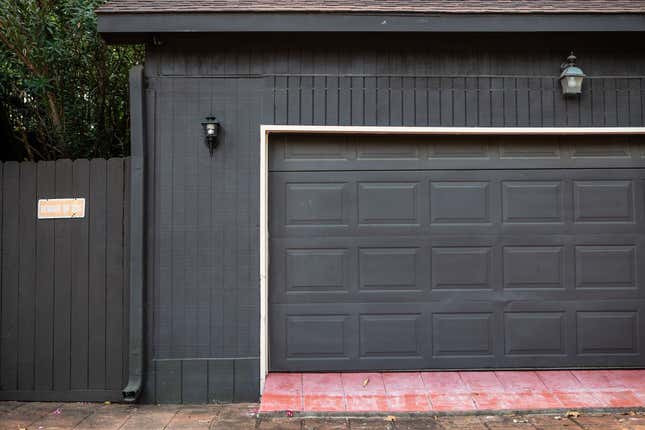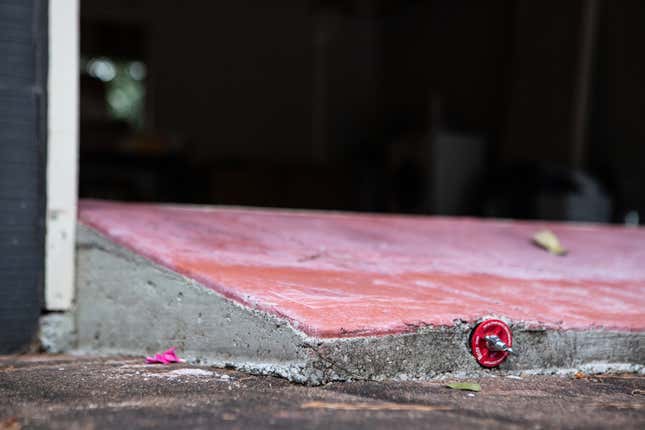 Vir is not expecting those changes to help his situation anytime soon—or make up for what he's already lost. The 2015 flood ruined 20 years of possessions, including rugs and paintings. Flooding in 2016 wiped out the wood floor he was installing to replace the one destroyed the year earlier—he's now opted for concrete. In all, he's spent about $100,000 in flood-proofing, in addition to a full-house renovation to repair damage. It was either that, or seeing his home value go down the drain, he says.
He continues to make improvements with each passing storm. After Harvey trashed his car, he installed raised ramps to his garage with special drains. This kind of DIY adaptation has its limits, though.
"If it goes up to three feet, there's nothing we could do," he says.