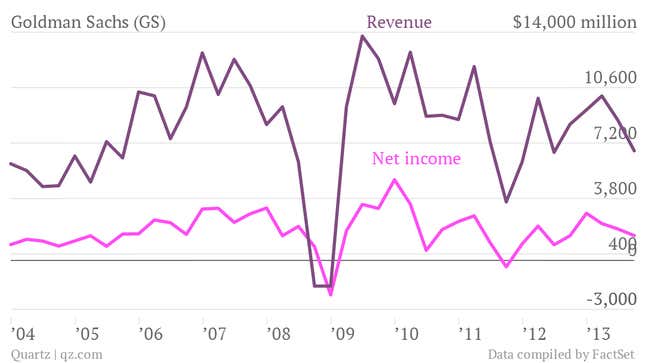 The numbers: Goldman Sachs reported earnings of $2.88 per share, soundly beating Wall Street's expectations of $2.44 per share.  Although this itself renders Goldman's earnings a "win," it's hard to ignore that this is also the investment bank's worst quarter since Q2 2012. Revenue fell to $6.7 billion, 22% lower than the second quarter and 20% lower than the third quarter of 2012. Further, the bank's flagship fixed income, currencies, and commodities trading business took the hardest hit; profits from this unit fell 44% from a year ago.
The takeaway: Troubling, even though all of the hits to Goldman Sachs's business were expected. Even CEO Lloyd Blankfein described that quarter as a "period of slow client activity," a surprising statement from the normally confident executive. Clearly investors are unimpressed. Goldman Sachs shares were trading more than 2.5% lower, despite the fact that it raised its quarterly dividend from $0.50 to $0.55 per common share.
What's interesting: The bank made sharp cuts to costs. It brought total compensation and benefits down 35% from third quarter last year to $2.38 billion. Non-compensation expenses fell 9% from the same period to $2.17 billion.