There wasn't much to dislike about Verizon's Q3 performance, announced this morning. America's biggest telecoms carrier reported earnings of $0.76 per share, beating Wall Street consensus estimates for $0.74, with total revenue hitting $30.3 billion, 4.4% higher than in Q3 2012.
But the jury's still out on whether Verizon's $130 billion deal to buy the remaining 45% of its wireless business from the UK's Vodafone last month was a smart one.
The purchase was in part funded by the biggest corporate bond issue in history, pushing Verizon's total debt to within a whisker of $100 billion, as the above chart shows. When the deal closes, its net debt will be twice what it currently is. That led to ratings agencies to downgrade Verizon's credit rating.
The deal is effectively a bet that there is still room to grow in the wireless industry. On this front, even Verizon's own CFO Fran Shammo is cautious. "I can't sit here and tell you that 8% growth is going to happen forever in wireless," he said on the company's conference call today. "Now, I will tell you that in the short term I do believe that we can continue 8% growth, but over the long term, I would tell you that I think that's probably a high aspiration."
Still, it was the wireless business that did the heavy lifting in Q3, with 1.1 million customers joining the carrier (51% of contract activations were on iPhones) and revenue rising 8% to $16.8 billion. Profit margins on service revenue—that comes from calls and usage of data—expanded by more than a full percentage point, to 51.1%.
Macquarie Equities analyst Kevin Smithen expects industry service revenue to begin to slow since the market is beginning to look saturated. Then again, less than half of the big four mobile carriers customers are on high speed 4G/LTE  services, where margins are the highest and there is greater opportunity to sell more services.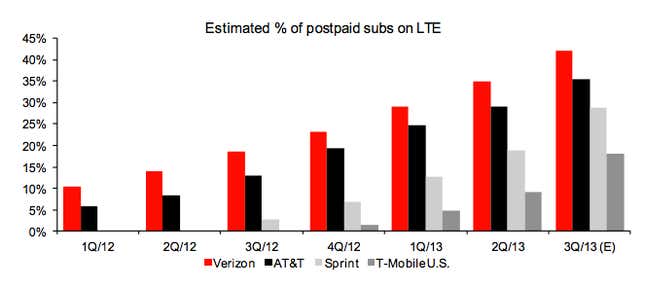 And surprisingly, there is still plenty of room to grow smartphone subscriptions, with up to 40% of Verizon's subscribers still on "dumb phones," which use less data.