In 2010, some 223,000 people around the world died from lung cancer caused by exposure to air pollution, the World Health Organization (WHO) said yesterday. And more than half of those deaths are believed to have been in China and elsewhere in East Asia. Here are the world's worst cities for air pollution, according to the WHO.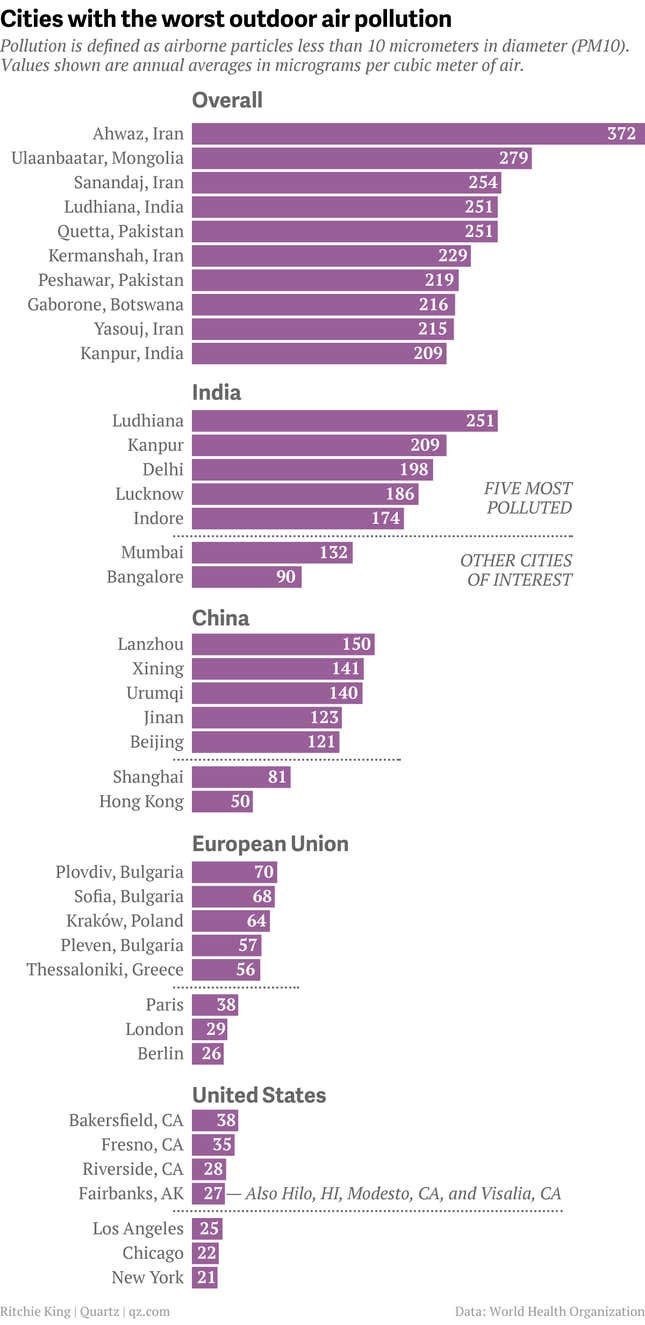 Exposure to air pollution is getting worse in parts of the world, especially industrializing countries, according to the WHO. The WHO's key announcement yesterday was that it has included outdoor air pollution on its definitive list of the world's known carcinogens—an addition that, it hopes, will get governments to do something about it. Air pollution is the world's worst environmental carcinogen and more dangerous than second-hand smoke, for instance, the health body said.
As the chart above shows, the cities with the worst air are often not big capitals, but provincial places with heavy industry in them or nearby. Ahwaz, for instance, in southwestern Iran, far outstrips infamously polluted cities like New Delhi or Beijing, with 372 parts per million of particles smaller than 10 micrometers (PM10), compared to the world average of 71. Life expectancy for the city of 1.2 million residents is the lowest in Iran.
Why so bad? In Ahwaz, Iranian meteorology officials have blamed the US for the spike, claiming the presence of US forces in Iraq during the Iran-Iraq war of the 1980s destroyed agriculture and caused desertification. But researchers cite heavy industry in and around the city, like oil, metal and petrochemical processing, and blame the desertification on the draining of marshes and a national project that has diverted local water away from the city.