DJI finally took the wraps off its followup to the Mavic Pro, the massively popular drone it unveiled two years ago.
The company had planned to introduce the new drone in July but put it off until an event in Brooklyn, New York, today (Aug. 23). DJI wanted to ensure it could "deliver according to [its] standard of innovation," it told Quartz at the time. Since then, retail partners like the UK's Argos have mistakenly let slip what the company was going to unveil.
There was still a fair amount to announce in Brooklyn, where DJI thanked the live audience and those watching online for their patience with the leaks and delays. Then the company introduced two new drones, the Mavic 2 Pro and Mavic 2 Zoom.
The drones are nearly identical and feature the same folding-arm design as the original Mavic. The Zoom features a 12-megapixel camera that simulates a 96mm telephoto lens, which DJI says makes it the first drone with an optical zoom. The Pro features a 20-megapixel camera designed in conjunction with Hasselblad, the storied camera-maker whose devices have been to the Moon and the ocean floor.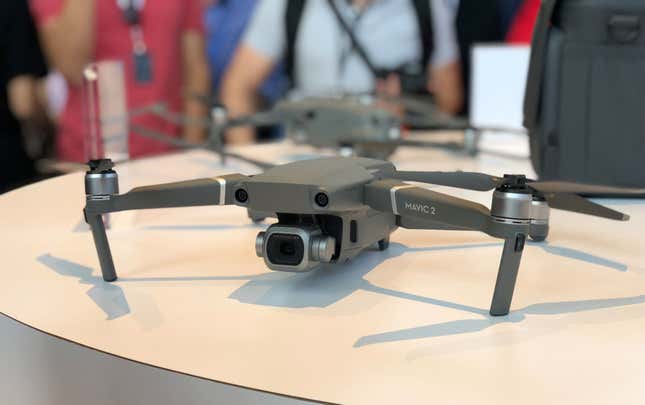 Both models can record 4K HD video and have all the autonomous flying and recording features that placed recent DJI models among the most popular consumer drones. And they also have a few new tricks up their sleeves, including a "hyperlapse" function, to create moving time-lapse images when the drone covers a large distance as it records.
The Zoom also features a mode that mimics the "dolly zoom" camera trick popularized by Alfred Hitchcock that appears to have the potential to create some amazing, bizarre shots:
The new models can fly up to 44 miles per hour, have 8 GB of internal storage, and a maximum flight time of about 31 minutes on a single battery. They're available on DJI's website now, and should ship within about a day. The Zoom costs $1,249, and the Pro $1,449—a steep jump over the Mavic Air from February and the more entry-level DJI Spark from 2017.