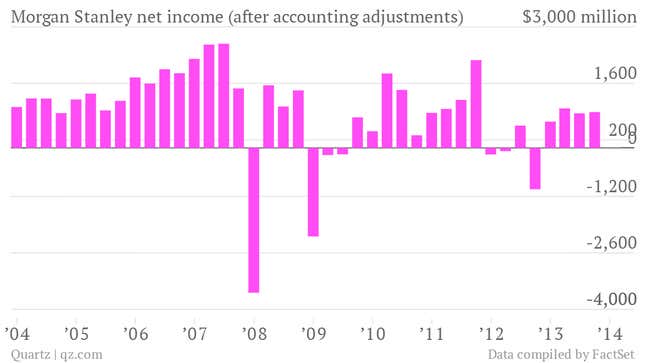 The numbers: Better than expected. Morgan Stanley beat Wall Street's expectations for both earnings and revenue in the third quarter. The bank saw revenue of $8.1 billion (excluding an accounting adjustment that's typically ignored) and earnings per share of $0.50, up from $560 million in revenue and earnings per share of $0.28 during the same period last year.
The takeaway: Overwhelmingly positive. In a dismal semester for most major Wall Street banks, Morgan Stanley struck a high note today. Shares were up 3.5% in pre-market trading.
Morgan Stanley's shift towards wealth management appears to be paying off. It saw profits from that unit hit $668 million, up from $655 million last quarter and $247 million a year ago. Over the summer, it finally completed a deal with Citigroup to buy the remaining half of brokerage Smith Barney, which some analysts think could be central to its future success.
What's interesting: Wall Street banks have been radically cutting costs to boost earnings. But Morgan Stanley may have hit a plateau there. Expenses fell only slightly from last year–from $6.7 billion to $6.5 billion–and compensation stayed just about the same.