A few years ago, flying a drone was about as a complicated as flying a helicopter, albeit a rather small one. It required complicated controls, a lot of set up, patience, and a fair bit of dexterity. Now, companies like China's DJI, which has quickly come to dominate the consumer drone market that it helped create, have made it as simple as tapping on a smartphone, or waving your hands in front of you.
In 2016, DJI released the Mavic Pro, an attempt at a portable, foldable drone that could still take great photos while being simple to fly. The drone was a technical marvel, cramming the technology previously found in much larger drones into something far easier to lug around.
The company recently returned with a new set of Mavic drones, the $1,249 Mavic 2 Zoom, and the $1,449 Mavic 2 Pro, which are meant to retain the technical prowess of the original model, while providing aerial cameras that might actually replace the far more complicated and expensive filming techniques that filmmakers currently have to use.
Quartz spent the last few weeks with the Mavic 2 Pro. Here's what we thought:
What's good
Beautiful photography. The main reason to buy a drone of this caliber should be for the quality of pictures it can take. And the main difference between the two versions of the Mavic 2 are the onboard cameras.
The Mavic 2 Pro houses a 20-megapixel camera designed in partnership with Hasselblad (in which the Chinese company acquired a majority stake back in 2017). Hasselblad is one of the most storied camera brands in the world, whose devices have been used on the Moon and at the bottom of the ocean. And it lives up to the hype.
Meanwhile the 2 Zoom features a 12-megapixel camera built by DJI itself that has a 2x optical zoom, which DJI says it believes is the first zoom camera attached to a drone.
The Zoom has some other tricks up its sleeve, such as being able to recreate the "dolly zoom" cinematic shot:
I tested out the 2 Pro, as it's not every day you get to test out a Hasselblad. The camera produced some stunning images, even in my generally useless hands. Here are a few I shot of a marshy area near the ocean in Massachusetts: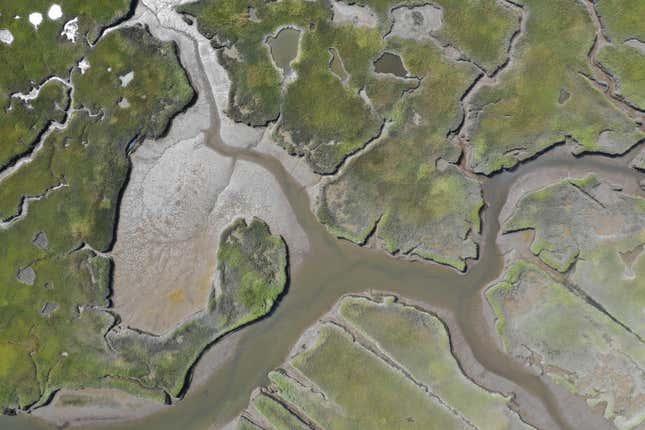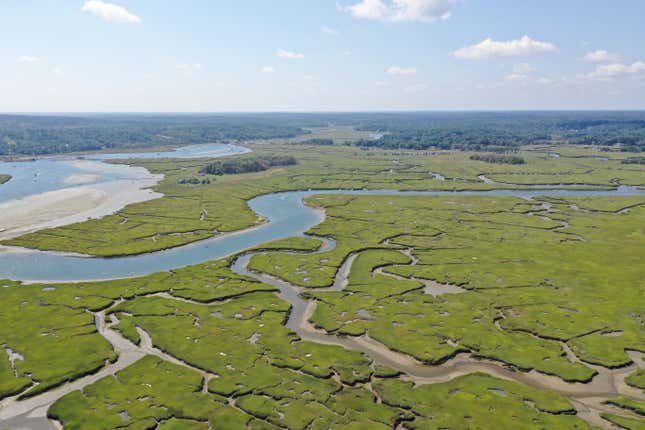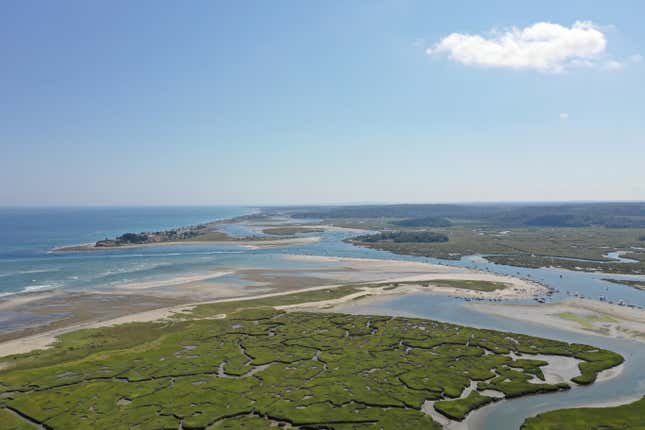 The remote controller for the Mavic 2 can stay connected to a drone up to 5 miles away, meaning you can produce some truly gorgeous photos from unique perspectives without much practice. I'm a novice drone pilot (and a mediocre photographer), and I was able to create some pictures that wowed the residents of the area, who had never seen their town from that perspective before: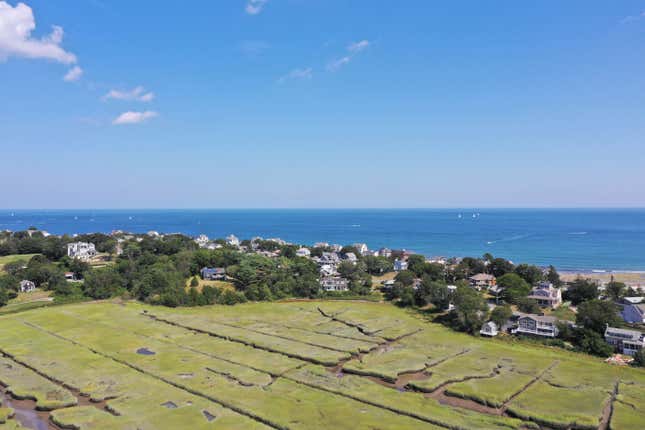 The 2 Pro also features a new "hyperlapse" mode, which is essentially a time-lapse video where the camera also moves during the shot. Although it requires a fair bit of patience to set up, the results can be amazing.
My videographer colleague Erik Olsen recently used a Mavic 2 Pro along a highway outside Los Angeles to great effect:
It's a DJI drone. There aren't really any other drone companies that have consistently developed hardware as impressive as DJI continues to do year after year, and the new Mavic 2 is no exception. DJI keeps coming out with new designs and ideas, while much of its competition rushes to copy the last thing it put out.
For the last few years, DJI has jammed an increasingly impressive number of sensors into its drones. Starting with the Phantom 4 drone in 2016, the company has been integrating technology that helps ensure its drones avoid crashing into things. Its first intelligent drones could sense what was in front of them and where the ground was. The Mavic 2 drones can detect obstacles above, below, in front, behind, and to each side of the device.
And although these are professional-level drones, they still have a series of flight modes that are as easy to set up as a few taps on a screen, including the ability to track a person, create panoramas, or fire up any of the built-in "quick shot" effects on the drone:
Fast and nimble. The DJI Mavic 2 really moves. When it's in "sport mode"—which turns off some off the obstacle-avoidance technology in the drone—it can fly up to 45 mph (about 5 mph quicker than the original Mavic), and it can maneuver through air like a racing drone.
Although it might take a little bit of time to get up in the air (more on that below), once it's ready to go, the Mavic 2 can get to where it's going in record time. And with the built-in sensors, it can whip around and generally avoid trees, people, or whatever else might be in the way of your perfect shot. (Remember, though: DJI's avoidance tech is impressive, but that's not a free pass to fly recklessly—especially near people.)
It's (relatively) quiet. Drones are not, by nature, particularly quiet machines. Their propellors whir with a ferocity that sounds like a thousand trapped bees, making them generally unbearable to fly indoors or near large groups of people (which is probably for the best anyhow).
But the Mavic 2 has a new type of speed-control system, and redesigned propellors that make it far quieter than older models.
It's sturdy. When DJI first unveiled the Mavic line in 2016, I asked the company why consumers would bother with its larger Phantom 4 drone, which had pretty much all the same technology as the Mavic, but in a bulkier frame. The answer was that some would prefer the Phantom for its bigger size, the company told me, as it would be better able to stand up to high winds.
The 900-gram (2-pound) Mavic 2 is generally shaped like the original Mavic, although it weighs about 200 grams, roughly half a pound, more. In some rather stiff breezes that local birds were struggling with, the drone had no issues still recording stable video—or, more importantly, staying in the sky.
What's not so good
The app is still fiddly. While DJI has massively improved its hardware over the years, its app is still awkward. Used to control the drone and its video feeds, as well as take photos and edit and share all the content the drone produces, the app needs to do a lot at once. But it's difficult to navigate, freezes, and is difficult to read while trying to fly a drone in bright sunlight. And it still is a hassle to update the firmware on the drone and the controller through the app, because they have to stay connected to the phone the entire time they update:
Battery life is still an issue. The Mavic 2 drones have an average flight time of around 31 minutes per battery in ideal settings. But if anything slows you down—like connecting your phone to the drone, getting your shots, set up, or strong breezes—your flight time will definitely be dramatically reduced. It often feels like you've just got the drone up to where you want it, when it's be time to bring it back down.
But this isn't so much a fault of DJI's as it is battery technology in general—for now.
It's relatively expensive. DJI's products seem to be getting better with each new generation, and so at any given level, you're getting more for your money than you were a year or so ago. But still, the Mavic 2 does not come cheap.
As well as the $1,249 for the Zoom model or $1,449 for the Pro model, you'll likely want to shell out for the "Fly More" kit, which includes a remote controller, two batteries, a multi-charger, and other goodies, for an additional $319. So the New Mavic is far more powerful than, say, the company's $400 Spark or its $800 Mavic Air, but its additional benefits come at a cost.
You need something to carry it in. This might seem like a silly nitpick, but DJI likes to harp on the notion that like a camera, the best drone is the one you have on you. But unlike some of its smaller drones, the Mavic 2 isn't really something you can just jam into your backpack. You'll likely need something to carry it in, along with extra batteries, the controllers, cables, battery chargers, and the like—it's not something you can quickly whip out and get into the air.
Should you get a Mavic 2?
If you're after a high-quality, durable, professional-grade flying camera, the Mavic 2 is absolutely the drone for you. Most of the quibbles above are minor when weighed against how good a flying camera this drone is.
Personally, I've returned my Mavic 2 and gone back to my Spark. I love the Spark, but I have to admit that flying it after flying the Mavic 2, it sort of feels like going from an iPhone X back to an iPhone 4. The difference is palpable. My photos look grainy and if the battery on the Mavic 2 drained quickly, the battery on the Spark considerably worse.
If I were to choose between the new DJI drones, I'd go for the Mavic 2 Pro, which I reviewed, over the Zoom. I like the quality of the Hasselblad camera over the ability to zoom; the thing flies, after all.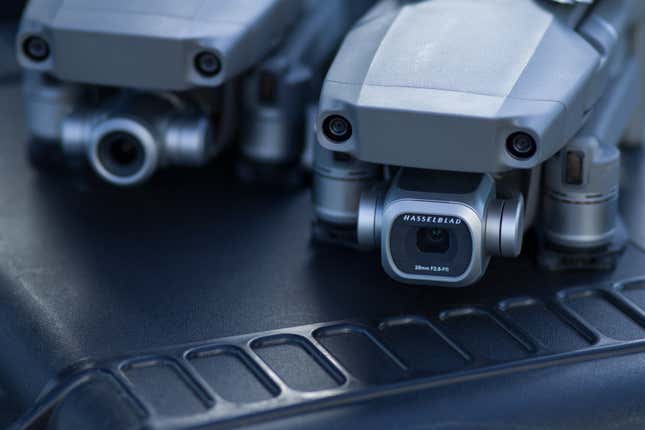 A drone that allows you to fly so far, so quickly, and so easily opens up a world of new possibilities. I could only fly the Mavic 2 a few times while I had it (flying in New York City, where I live, is legally complicated), but I kept wanted to fly it longer and try new things. In the hands of a professional, these drones will likely be used to create the kind of footage that would've only been possible with very expensive and large camera rigs until recently.
But realistically, if you're more of a hobbyist drone flyer, the Mavic 2 line likely isn't for you. Although it's as easy to use as any other DJI drone, it's an expensive piece of equipment. For casual flying and photography, you'll be almost as satisfied with the Spark or Mavic Air—for a lot less cash.