Don't write Big Solar off yet. With the plunge in photovoltaic panel prices, US utilities that once enthusiastically signed deals for massive solar power plants to be built in the desert began to favor small installations deployed near cities that don't require the construction of  multi-billion-dollar new transmission lines. But a new report shows that so-called utility-scale solar—which supplies more than 10 megawatts (MW) of electricity from a central power plant—hit a new record in the third quarter of 2013.
So far this year, 1,081 MW of utility-scale solar has come online, with the flip switched on 282 MW in the third quarter, according to market research firm SNL. That's a 15% spike over the third quarter of 2012.
The number to watch, however, is how many megawatts are in the pipeline to be built in the coming years. There are currently 36,794 MW worth of projects under development in the US. SNL expects a building boom over the next two years with than half of that solar coming online to qualify for a 30% federal tax credit that is set to fall to 10% by the end of 2016.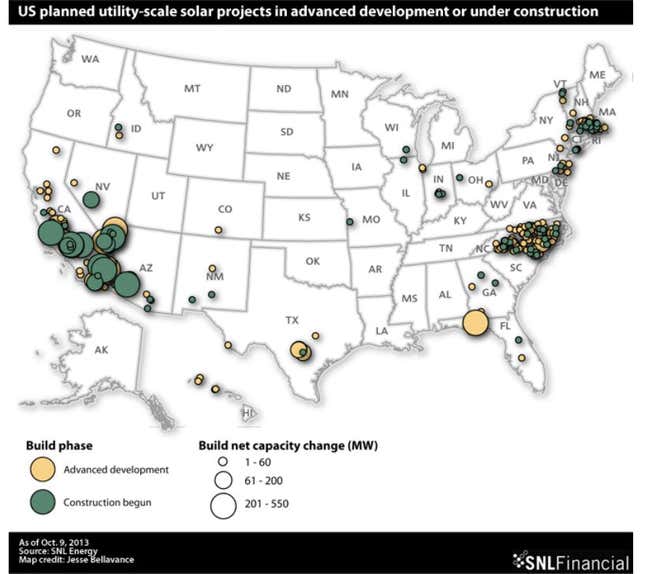 Rooftop solar accounts for two-thirds of solar installations in the US. Big Solar, however, still holds its appeal as the economies of scale and higher electricity production from deploying hundreds of thousands of solar panels in the sunshine-soaked desert means utilities can lock in cheaper rates under long-term contracts. Just this week, for instance, solar panel manufacturer and developer First Solar announced it would build a 250 MW photovoltaic farm in California for NextEra Energy Resources.
The quarterly numbers for utility-scale solar also can be a bit misleading. It can take years to build a Big Solar power plant and the megawatts are only counted once it begins to generate electricity. So expect big jumps in 2014 when projects like BrightSource Energy's 370-megawatt Ivanpah solar thermal power plant come online.