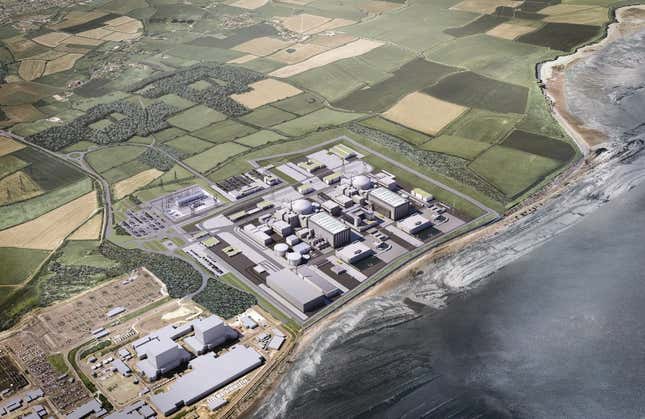 Britain will build its first nuclear power plant in 20 years, according to a preliminary deal announced today. If approved, it will be the first nuclear reactor built in Europe since the 2011 Fukushima disaster in Japan. Both Germany and Switzerland decided to phase out atomic power after Fukushima, but the UK is clearly taking the opposite tack.
The deal still requires approval from the European Union, given the support that the British government will give to the plant's operators, which include French energy groups EDF and Areva, and their Chinese partners China General Nuclear Corporation and China National Nuclear Corporation. When the reactors come online, which the government expects in 2023, a 35-year deal will guarantee operators a power price roughly double the current wholesale rate, which sits awkwardly alongside a string of unpopular, inflation-busting price hikes by British utilities this month. Additional government guarantees will support the £16 billion ($25.9 billion) it will cost to build the plant at Hinkley Point southwest England.
The plant will be majority-owned by EDF and Areva, with their state-owned Chinese partners taking a 30-40% stake. These companies have worked together before to build similar reactors, with mixed results.
Win some, lose some
The UK's new reactors will employ the Areva-designed European Pressurized Reactor (EPR) technology. There are four of these plants currently under construction, two in Europe and two in China. In Europe, EPR plants are developing a reputation for delays and cost overruns. A Finnish plant, which began construction in 2005, is running at three times its original budget and six years behind schedule. A plant in France, which broke ground in 2007, has seen a similarly large cost overrun and a delay of four years.
By contrast, a French-Chinese consortium similar to the one proposed in the UK started building two EPR plants in 2009 and 2010 in Taishan, Guangdong province. Both reactors are on track to be up and running in a bit less than four years, potentially ahead of their Finnish and French counterparts and at a fraction of the cost.
Understandably, the partners in the UK's proposed plant have referred to the Taishan reactors extensively in public statements, while only obliquely mentioning the dysfunctional European plants in terms of "lessons learned" on previous projects. Under fire for soaring energy costs and facing opposition from the green lobby, the British government will hope its new reactors follow the Chinese model, despite labor costs and a regulatory environment that are much more similar to France and Finland than China.
EDF will generate a 10% return on its investment in the UK project, provided it builds the plant on time and on budget. The French firm is a minority partner in the Chinese EPR plants, so if this European-led project comes close to its intended schedule and budget, it will prove that 'third time's a charm'—thanks in part to bringing in Chinese partners.