Remembering to clean your floors may soon be just a memory.
iRobot unveiled its latest robot vacuum, the Roomba i7+ today (Sept. 6). A spiritual successor to the Roomba 980 introduced three years ago, a series of cameras and sensors onboard allow it to make a map of your home to guide it around sofas, chairs, and other obstacles. Unlike the 980, the i7+ (iRobot's naming conventions no longer make any sense) stores the map onboard and remembers where to go each time it is sent into action.
The i7+ is meant to be easier to manage than any past Roomba. It comes with a new charging base that houses a far larger trash bin than those on older models. The base automatically sucks the debris out of the Roomba into the bag, and iRobot says it has the capacity to hold around 30 cleanings' worth of dirt, meaning all you have to do is set the i7+ to clean once a day and empty its trash once each month.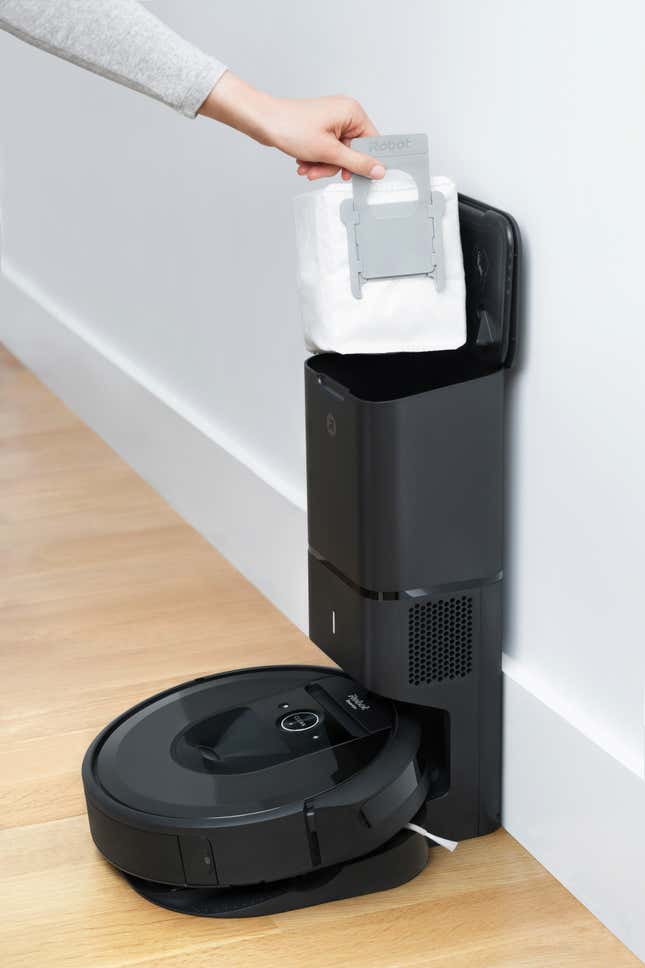 Like some older models, the i7+ connects to Roomba's app and can also sync up with popular virtual assistants, including Amazon's Alexa, to schedule cleanings or start new ones. The new robot can also automatically figure out a house's floor plan. This lets owners split up and label individual zones in the app, meaning you can say, "Alexa, tell Roomba to clean the kitchen," and it should do just that. iRobot's rationale is that some rooms—usually the kitchen—often require more attention than a daily or weekly clean.
The new Roomba is available to order from iRobot's website for $949, with shipments expected next week. It'll be available in stores in October. iRobot is also selling a version of the robot that doesn't come with the self-cleaning base, just called the i7, for $699.
iRobot remains one of the few companies that actually has successfully developed robots for the home. Unfortunately, we're still likely many years away from ones that can do anything beyond cleaning the floor.