Mercedes-Benz's first electric SUV is here. The EQC has a 279-mile (450-kilometer) range, driver-assistance technology, and a luxury interior. It's Daimler's answer to Tesla's Model X, the electric SUV with a 289-mile (465-kilometer) range and falcon-wing doors that first debuted in 2015. And it's likely going to fail.
Mercedes-Benz is one in a veritable parade of carmakers hoping to end Tesla's reign over the electric-car market. Jaguar, BMW, Porsche, and others are playing catch-up with the California company by electrifying their vehicles. Tesla has sold more than 300,000 electric cars since 2010, and claims it will reach profitability this year with the Model 3, the world's second mass-market EV after Chevrolet's Bolt.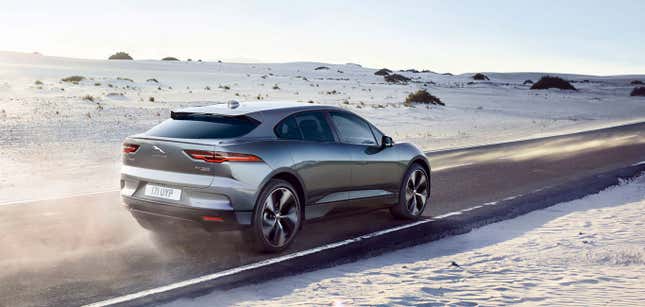 Thus far, major carmakers' response has been to announce electric cars years away from availability—the EQC is set for mid-2019—or to redesign EVs based on conventional models. That's left Tesla owning the high end of the market. The company bet on a massive, untapped demand for sexy, high-performance electric vehicles, and it was right.
The Model S and Model X are among the best-selling electric cars in the US, outpacing conventional luxury vehicles from Audi to BMW. This summer, the Model 3 became the seventh best-selling passenger car in America, putting it ahead of the Ford Mustang, Toyota Prius, and even the BMW 3, 4, and 5-Series combined. No car debut in history can match the Model 3's last year which raked in roughly 450,000 deposits, a total of $4.5 billion, for Tesla.

Now Tesla is cashing in on that massive growth. Bloomberg estimates it took five years to sell the first million electric cars, and only six months to sell the last million (a total of 4 million electric cars have been sold to date). Last quarter, half the growth in global passenger vehicles sales came from EVs, although they still accounted for less than 3% of the total.
That's not to say Tesla will prevail—the company is beset by problems on all sides. Already this year, Elon Musk, Tesla's erratic CEO, has threatened to take the company private (and then reneged), attacked journalists on Twitter, sparred with alleged Tesla saboteurs, hung up on federal safety investigators, overseen an exodus of executives, and called a British rescue diver a "child rapist." Meanwhile, Model 3 production has been a costly fiasco, Tesla's stock price gyrates wildly on rumor and innuendo, and the company is among the most shorted in the US. Multiple federal agencies have launched inquiries into Tesla, and investors are writing open letters beseeching Musk to focus.
Yet for all its troubles—even in part because of them—Tesla has something that Mercedes-Benz and its ilk do not: buzz. Despite the hype-machine these companies are attempting to rev up, there is simply nothing that compares to Musk's fanbase extolling his vision, sleek products, and Iron Man mystique. The early adopters willing to pay big money for an EV look to Tesla first. It may be years before they instead turn to the legacy automakers. After all, what other company can say that its customers give "10,000 test drives" at car shows, as Tesla owners did this July. "Staff from companies like Pagani, Aston Martin, BMW, and Porsche had to pick up their jaws from the floor once they realized we were volunteers from the official UK owners club and not employed by Tesla," tweeted Will Fealey, president of the Tesla Owners Club UK.
Carmakers are going electric because they have to, not because they want to. With few exceptions—Nissan's Leaf pioneered the market—most companies have spent years staving off EVs' arrival. Now, nine countries (and more cities) have vowed to phase out of internal-combustion engines (ICE) around 2040 or sooner to meet climate goals. China, the world's biggest car market, is effectively forcing manufacturers to switch to electric drivetrains.
Of course, the transition will be expensive. Most carmakers will lose money on EVs until they can produce enough cars to pay off initial investments in refitting factories and research. General Motors is losing an estimated $9,000 per Bolt, according to Bloomberg. In the long run, EVs will be simpler and cheaper for everyone, not to mention help stop global warming. The total cost of owning an electric car (purchase price, fuel, and maintenance) already beats out most combustion engines, estimate UBS analysts, while the manufacturing costs are expected to fall and reach parity around 2025.
Tesla has survived thus far by selling expensive, nearly handmade cars. Now it may, finally, turn a profit mass-producing the Model 3. That's a huge advantage if it can be sustained. But major carmakers like Daimler, which owns Mercedes-Benz, already have huge production capacity (factories, robots, and logistics networks), as well as balance sheets to match. They're banking on being able to catch up quickly, and ultimately overwhelming Tesla with their financing and operational edge.
Tesla can't survive as a popular mid-sized electric carmaker given its ambitions (and cash-burn). The company's head-start building out a first-class charging network, coveted cars, and an idolized brand will only get it so far. Winning will be all about scale. It needs to sell more cars, at lower prices, to bring prices down on the vehicle itself, as well as battery costs (the most expensive single component of electric vehicles). It needs to find the cash (many billions of dollars) and a competitive differentiation (most major carmakers' lineups will be electrified by 2025) to withstand a coordinated onslaught by the world's major carmakers (paywall).
Arthur Wheaton of Cornell University's labor and industrial relations program predicts Tesla won't last on its own. "It's almost inevitable that larger automakers will overtake Tesla," he says. "Tesla doesn't have the manufacturing expertise." Wheaton predicts as the EV market goes mainstream, the rest of the field will catch up. If Tesla stumbles again, as it did with the Model 3 and Musk's recent antics, other carmakers can exploit their advantage to position themselves as the desirable alternative.
The EQC is unlikely to be a Tesla killer. It's too little, too late, arriving in a luxury niche already well filled by Tesla's now refined (and beloved) electric SUV. But the EQC is only the opening salvo in the war to capture the next generation of transportation.
Correction: In a previous version of this post, a caption misstated the maker of the I-PACE. It is Jaguar.