US millennials get most of their news from the internet. But in breaking news situations, even young adults look up from their smartphones.
The generation of US adults ages 21-37 turns to national TV news most often when news is breaking, such as during the 2016 US presidential election, found Nielsen, in a 2018 study on news consumption by millennials. The research firm, which regularly measures media consumption through representative panels of US audiences, analyzed its recent data sets on news for the study. It did not include local TV news.
The monthly reach of both digital and national TV news spikes among millennials—even more so than adults ages 38 or over—during major news moments, like the 2016 US presidential election, and Donald Trump's inauguration in 2017. Young adults still flocked to digital news during those events, but also turned to TV for coverage, the data showed.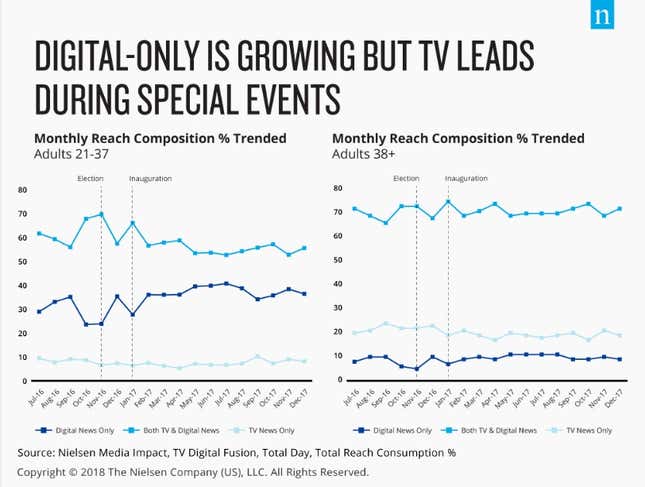 Networks like the Fox News Channel and CNN covered both of those news moments extensively, and got a boost from it. Fox News was the most-watched cable TV channel in January 2017, in terms of total day viewers, mainly because of its inauguration day coverage, Ad Week's TV Newser reported last year. And networks CNN and MSNBC saw huge viewership lifts in 2016, thanks to their election coverage.
Overall, digital news reaches about 88% of millennials per month, while TV news reaches just 61%, data from December 2017 show.
It makes more sense then, why even the most mundane news on CNN is classified as "breaking."