Quartz continues its series profiling companies around the world experiencing explosive growth. 
BUENOS AIRES, Argentina—Latin Americans are not known for keeping to strict timetables or planning too far ahead. A two-year-old startup based here, Restorando, is trying to change that—at least when it comes to dining out.
It's been an uphill battle but the business is taking off. About 200,000 users a month are booking tables through Restorando's website and mobile app at more than 2,500 restaurants in Brazil, Argentina, Chile, and Colombia. Mobile represents more than one-third of total activity—and not surprisingly, the app's most popular feature is to "find a nearby table."
At least, for now.
"Latinos don't have the reservation-intensive culture that Americans or Europeans do," says CEO Frank Martin, adding that changing that cultural norm was Restorando's primary challenge when it launched in 2011.
It would be easy to just call it the "OpenTable of Latin America," but Restorando is going further in trying to change the entire restaurant culture of the continent.  It has partnered with foodie entrepreneurs in different Latin American cities to introduce restaurant week events, including Buenos Aires Food Week.
Such events help diners see the value of its business—and the benefit of the reservation, says Martin. "It's a great opportunity to evangelize," he says. "During those weeks, restaurants explode. A reservation is required and people discover the value of making one and have an experience that helps develop the reservation culture."
Slowly, more people are buying into the belief that habits can change. Restorando raised $13.3 million in Series B funding this past August, bringing the total raised to $17 million.
"Little by little, restaurants in Latin America are incorporating the idea that the relationship with the customer extends to before and after when that person dines there," says Marina Ponzi, co-founder of Buenos Aires Food Week and Fuudis, which organizes unique food experiences around the city. The site and its efforts, she says, have "an incalculable  value for gastronomic businesses that want to continue growing in today's digital world."
While there are hurdles in breaking old habits—or helping to develop new ones—the Restorando business model has internet usage on its side. As the world's fastest-growing online market, according to a 2013 comScore report (Spanish, registration required), Latin America is fertile land for technology startups. Latin Americans also spend more than twice the global average time on social media, the report finds.
Restorando capitalizes on those behaviors. The site  features user reviews and galleries of diners' photos. Many of the most popular restaurants have upward of 100 reviews from diners, and there are discounts for diners who book using Restorando.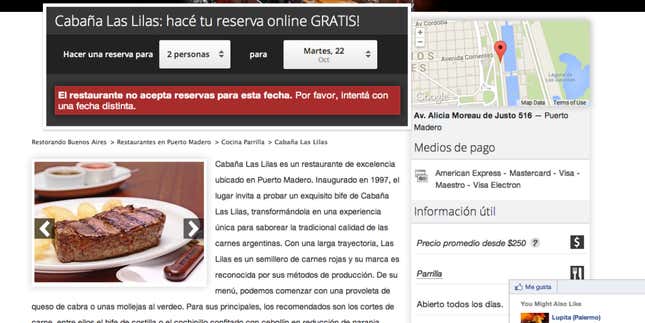 Restorando is entirely web-based and the reservation services can work on any device hooked up to the internet a restaurant uses, whether an iPad or laptop. (OpenTable provides restaurant customers with hardware to install, though it also offers browser-based and iPad options for managing the program.) "When we started, we realized installing a device at restaurant was a big barrier," Martin says. "Restaurants wanted to use their own technology and manage operations from any device and not invest upfront in a specific device."
The Restorando dining user base skews young and includes those who dine out more than once a month. The participating restaurants are generally "at the top of the pyramid," as Martin describes it, in terms of quality and price. Thus, the company's focus is not on being present at all restaurants, but giving diners the "best restaurants with the best availability" and helping restaurants improve their table rotation and better know their customer. "Prior, restaurants in Latin America threw away all their reservation books, when they were full of information about customers," Martin says.
Restorando is focused on expanding more aggressively next year, particularly in Brazil given the 2014 FIFA World Cup. Martin expects high demand for Restorando's service with the anticipated influx of non-Portuguese-speaking tourists, who might feel more comfortable booking online than dialing up a restaurant and attempting to communicate.