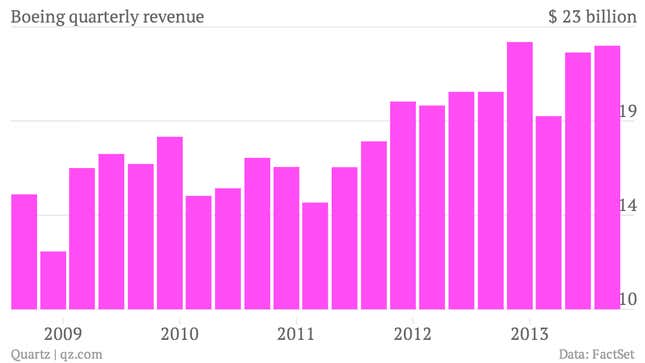 The numbers: Great. Boeing reported an 11% jump in third quarter revenue of $22.13 billion. Profits surged 20% to $2.14 billion, or $1.80 per share, blitzing Wall Street's expectations of $1.52. It also raised its forecast for full year earnings by about 4%. Shares in the global aviation manufacturer were up nearly 4% in pre-market trading.
The takeaway: Chalk it up to a nascent recovery in the global airline industry, thanks in part to airlines tweaking their business models in recent years. During the quarter, Boeing delivered 170 commercial aircraft, up 14% from last year. It booked 200 more orders during the quarter from commercial aviators. Its total order backlog hit a new high of $415 billion, including nearly 4,800 commercial airplanes valued at some $345 billion.
What's interesting: Are things finally looking brighter for Boeing's troubled 787 Dreamliner?  The midsize, long range aircraft has been beset by operational glitches and safety concerns since it was launched in 2009. But Boeing said it is seeing "continued strong demand" for the 787 range and plans to increase its production rate from 10 to 12 per month by 2016, and to 14 per month by  the end of the decade.