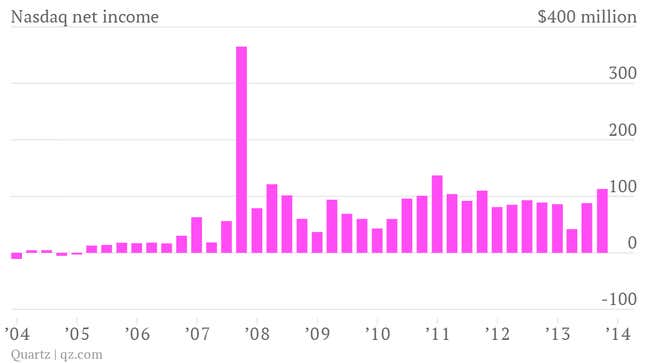 The numbers: Nasdaq OMX Group reported better-than-expected results for the third quarter, earning $0.66 per share and revenue of $506 million, up from $451 million last quarter and $412 million in the third quarter of last year. Profits totaled $113 million.
The takeaway: It hasn't been a great few months for Nasdaq's reputation, but you'd never know it by the company's earnings. The electronic exchange took a hit when it shut down for three hours in August. Then it was passed over for the Twitter IPO, the highest-profile listing since Facebook in 2012.
How has the company managed to make money, despite these setbacks? Increasingly, the exchange is making money from services that aren't related to its trading system. In the second quarter, it finalized its $3390 million acquisition of Thomson Reuters' investor relations, public relations and multimedia services businesses. This quarter, revenue in its corporate solutions division—which helps companies with things like investor relations and supporting their boards—rose from $56 million to $78 million. Nasdaq also purchased eSpeed–a Treasurys trading platform–for $750 million, which helped increase revenue in its market services business from $185 million to $200 million.
What's interesting: Despite its very public loss on Twitter, Nasdaq's IPO win rate recently hit a high of 59%, says CEO Robert Greifeld. Nasdaq IPO activity in the first nine months of 2013 was the highest of any year since 2007.