Well, that was a bit underwhelming.
At the Steve Jobs Theater on its Cupertino, California campus, Apple on Wednesday (Sept. 12) unveiled its latest host of gadgets, including multiple new iPhones and smartwatches. Based on recent leaks and rumors, many Apple-watchers had expected the company to announce far more than it did.
Here's a quick run-down of everything announced today:
So many new iPhones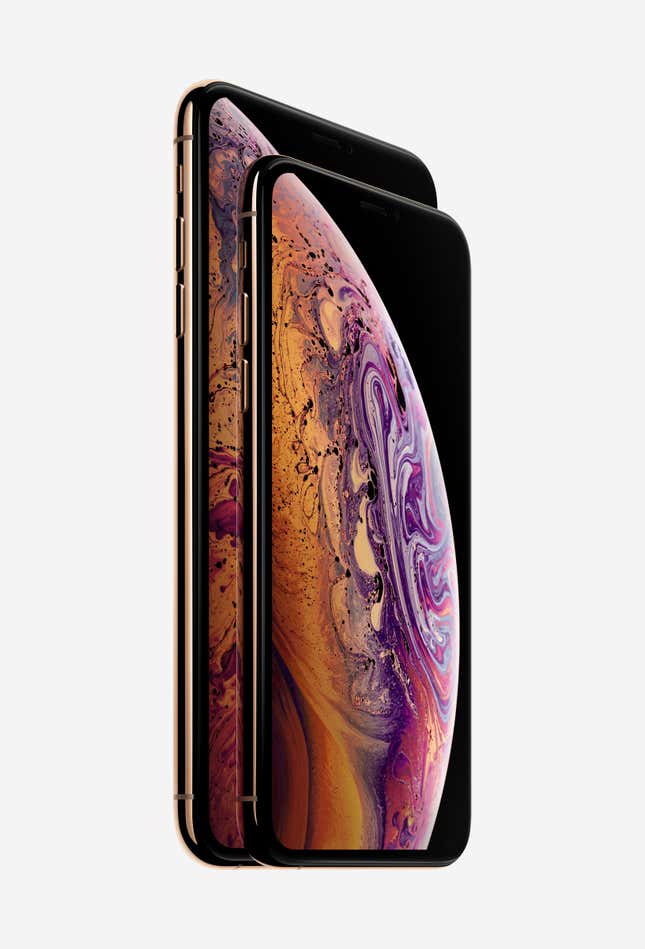 Apple introduced three new iPhones—the Xs, Xs Max, and XR. The Xs is the successor to last year's iPhone X, and the awkwardly named Xs Max, is a larger version of the Xs. The company also introduced the colorful iPhone Xr, which will be a slightly more affordable model.
The Xs looks nearly identical to last year's X, but includes a range of internal upgrades. It has a 5.8-inch "Super Retina" HD screen. Apple says its battery life is also about a half-hour better than the iPhone X.
The Xs Max is essentially a stretched-out XS. It features a 6.5-inch display that's almost as large as the entire iPhone 8 Plus (not just the screen). It's supposed to have a battery life about 1.5 hours better than the iPhone X.
Both the Xs and Xs Max feature powerful upgrades that Apple showed off with two live gaming demonstrations; one of the new Elder Scrolls game, and one where three people played an augmented-reality game in real-time:
Both phones also feature two 12-megapixel cameras with revamped sensors and optical image stabilization, as well as a new 7-megapixel camera on the front that works in tandem with the FaceID sensors (used to unlock the device) for sharp selfies and Animojis.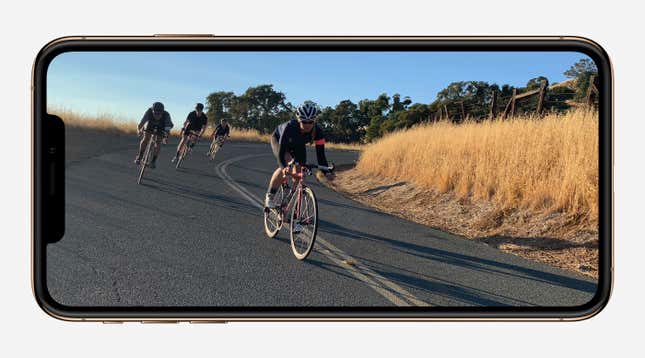 Both phones use their dual microphones to record video with stereo sound, a first for iPhones. The onboard sensors and processors work in the background to better balance things like colors, sharpness, and stability as photos and video are captured. The software will now also allow users to change the depth of field on the background of a portrait photo after it's been shot.
The phones have 4 GB of memory, and up to 512 GB of storage onboard, which should be more than enough for even the most voracious shutterbugs and largest music libraries. Both devices have the ability to support two SIM cards at once, for customers that want to use two cellphone accounts. The phones will start at $999 and $1,099 respectively, and be available for preorder Sept. 14, and in stores Sept. 21.
XR you kidding me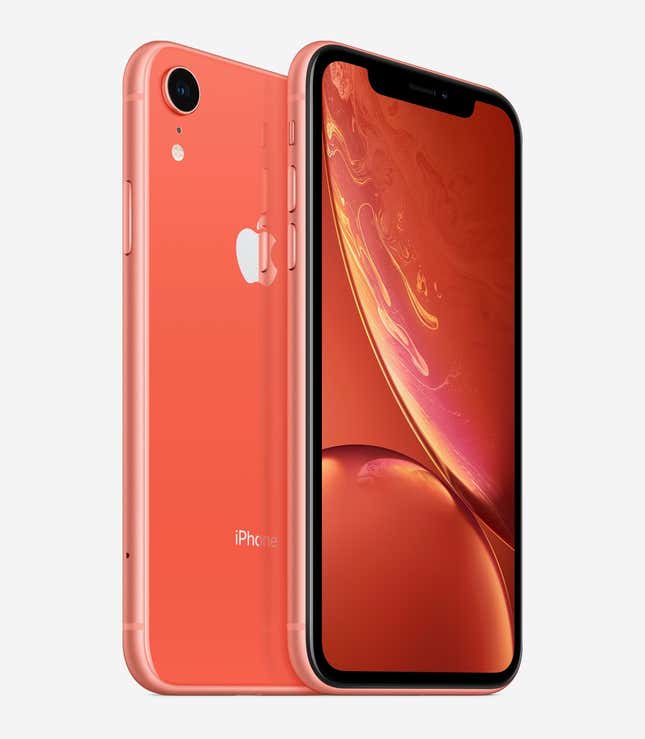 Apple also introduced the iPhone Xr, essentially a concession that iPhones have been getting very big and very expensive. The Xr is a (slightly) more budget-friendly model—it'll start at $749—with a fair few concessions to get to that price. The device is also meant to attract consumers looking for a little vibrancy: The Xr will be available in white, black, blue, yellow, coral pink, and red, making it the most colorful iPhone since the iPhone 5c.
The Xr works similarly to the iPhone X—it has no home button, and Siri and Apple Pay are activated from a side button—but unlike its larger brothers' sharp OLED screens, the Xr features a 6.1-inch LCD screen that's lower resolution and less bright. It also only has one 12-megapixel camera on the back, but uses software to attempt to recreate the portrait-mode photos the iPhone X can produce. On the front, the Xr has the same sensors as the iPhone X, so it still has FaceID unlock.
Apple says the Xr would have about 1.5 hours more battery life than an iPhone 8 Plus. It will be available for pre-order from Oct. 19, and in stores Oct. 26.
The Apple Watch Series 4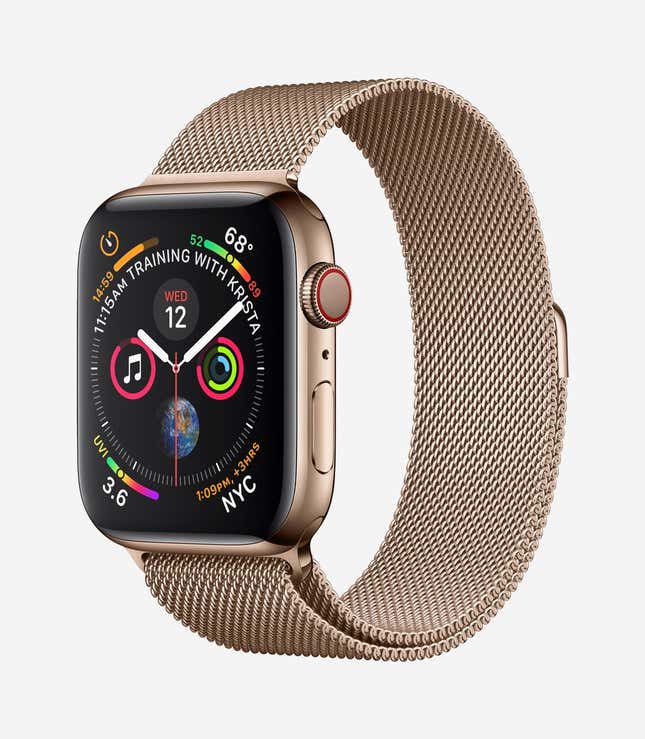 Some had suspected Apple was getting ready to release a circular-faced watch, but for now the company isn't fixing what isn't broken. The new Series 4 watch looks quite similar to the previous generations; it has the same basic shape, albeit with a thinner body and slightly more sloped sides. It will also accept the same wristbands as older models.
The Series 4 features a larger screen—about 30% larger than previous models—that comes close to the edge of the watch face. It also has a 50% louder speaker, and a better microphone; taking calls from your wrist should be easier than ever, if that's a thing you like doing.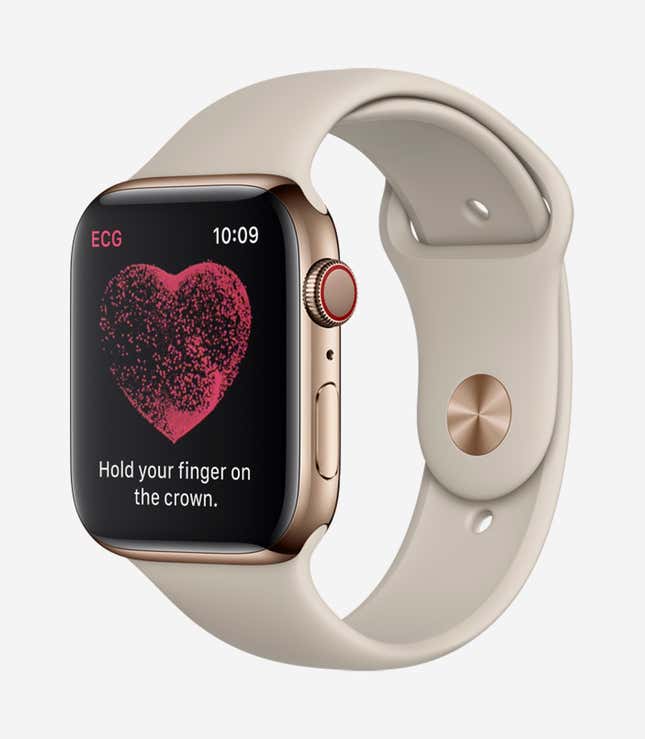 The watch now has haptic feedback built into the crown on the side (so it softly vibrates as you turn it), and it also happens to double as a groundbreaking medical device. The Series 4 is the first wearable of its kind to be able to capture electrocardiograms. Coupled with a group of new electrodes on the back of the watch, placing a finger over the crown for 30 seconds gives what is supposed to be an accurate mapping of your heart's functioning. Apple says it has received approval from the US Food and Drug Administration and support from the American Heart Association to sell this device in the US, and plans to work with authorities in other countries to get it approved overseas.
The new watch can also determine if wearers have an unusually low heart rate or irregular heartbeat, and can even determine if you've fallen over and alert emergency services accordingly. The wearable is quickly becoming an essential device for those concerned with their health and safety.
The Series 4 also has a range of new watch faces, both complex iterations that highlight a bunch of information at once, and a few that are more minimalistic.
Apple said the new watch has roughly the same battery life as the last model, about 18 hours, and is just as water-resistant. The Series 4 will start at $499 for the cellular version, and $399 for the wifi-only version. It will be available to preorder from Friday, Sept. 14, and available in stores Sept. 21. Starting today, the old Series 3 model will drop to $279.
Not much else
After the phone and watch reveals, CEO Tim Cook returned to the stage to briefly say that the HomePod can find iPhones now, and the Apple TV will support Dolby Atmos 4K streams. Those software updates will be available Sept. 17. Cook also said the next version of Apple's computer operating system, MacOS Mojave, will be available Sept. 24.
There was no "one more thing." There were no new AirPods, no new iPads, no new laptop or desktop computers, no update on the wireless-charging system Apple announced at this event last year, and no surprises whatsoever. Sure, the new gadgets sound quite nice. But at the end of the day, Apple spent close to two hours unveiling three phones and a watch.