Florence has company. As the United States' eastern coast prepares for the category 4 hurricane, new satellite images show two more storms moving across the Atlantic Ocean.
An image from NOAA reveals Tropical Storm Isaac, which was previously a hurricane, is moving towards the Caribbean. Meanwhile, Hurricane Helene is churning off the coast of Africa and is expected to move further out into the ocean before a possible shift towards Europe, CNN reports.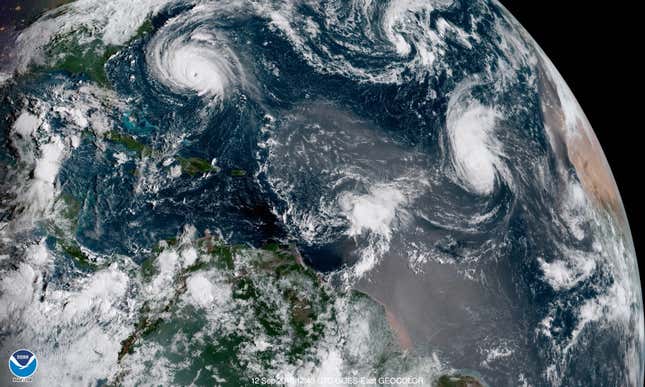 Before Isaac was downgraded, there was a brief moment when the Atlantic played host to three simultaneous hurricanes.
Due to Hurricane Florence, states of emergency have been declared for North Carolina, South Carolina and Virginia, while millions have been advised to evacuate from coastal areas. North Carolina governor Roy Cooper was blunt in his warning to residents: "Don't bet your life on riding out a monster," he said. Meanwhile, FEMA, the federal agency charged with responding to natural disasters, is facing financial and staff shortages.