Super Typhoon Mangkhut, one of the most intense storm systems this year, is expected to make landfall Saturday (Sept. 15) morning in the Philippines. According to the country's weather agency, it's packing sustained winds of 205 km/h (125 mph) at its center, which would make it the equivalent of a Category 3 hurricane; the Global Disaster Alert and Coordination System puts its wind speed higher and has said it's the equivalent of a Category 5 storm.
The storm, known locally as Typhoon Ompong, is projected to hit the Cagayan region in the northern island of Luzon, according to Philippine Atmospheric, Geophysical and Astronomical Services Administration (PAGASA). The agency is providing updates on the storm's path several times a day, and has warned on its Facebook page of moderate to heavy rains in parts of the country today.
As of this morning (Sept. 13), the eye of the storm was about 725 km (450 miles) east of Virac, the capital of the eastern province of Catanduanes, and was traveling west at 20 km/h. Earlier this week it caused flooding and power outages in the US territory of Guam. (You can get a look of its intensity, courtesy Japanese satellite data, here.)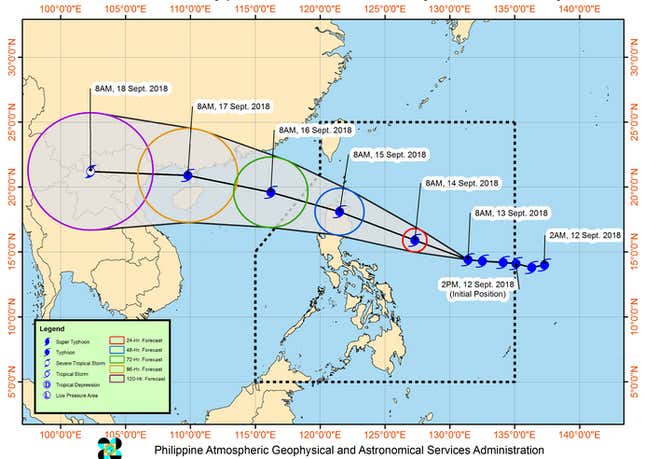 Typhoons are named by the Japan Meteorological Agency, based on contributions from different countries. In this case, Thailand had contributed Mangkhut, which means mangosteen fruit. But PAGASA gives its own names to typhoons that form within or enter the Philippines's "area of responsibility," the zone of the northwestern Pacific that it's charged with for monitoring weather disturbances. The idea behind giving a local name is that it signals to Filipinos they're more likely to be directly affected.
Thousand have already evacuated coastal areas, and most domestic flights for northern Luzon have been cancelled. The army's disaster response units and police in Luzon are also on alert. Crop damage in the millions of dollars is expected as a result of the rain and flooding.
After the Philippines, Hong Kong could be affected by heavy rains as a result of the typhoon, the Hong Kong Observatory warned. Its path after landfall in Luzon is unclear, but the storm is expected to weaken considerably by Sunday (Sept. 16).
Typhoon Mangkhut is just one of a number of super storms building up globally as the weekend approaches. Over in the Atlantic, Hurricane Florence has weakened to a Category 2 storm but is still expected to bring heavy winds and rainfall to the United States tonight. "Seemingly overnight, the oceans are exploding with tropical cyclone activity," the Washington Post said (paywall). If the storm systems sustain their strength, the world could see five simultaneous cyclones, a global weather event that's only happened once.