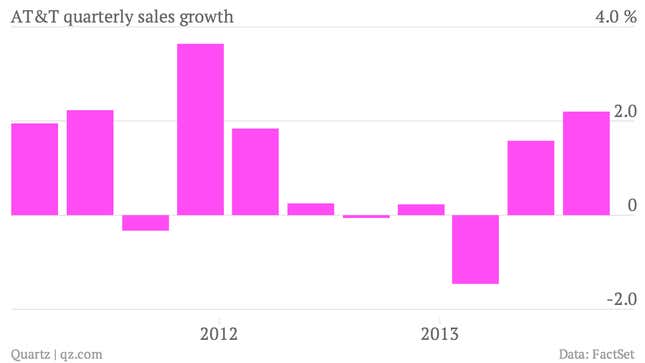 The numbers: Nothing to phone home about.  Texas-based AT&T reported a 2.2% rise in its third-quarter revenue to $32.2 billion.  Net income was $3.8 billion, compared to $3.6 billion a year ago.  Shares have barely budged in after-market trading.
The takeaway:  America's second biggest wireless operator continues to lag behind market leader Verizon. It added 989,000 wireless subscribers during the quarter, compared to 1.1 million at Verizon. Margins on service revenue—calls, texts and data usage—are at 42% compared to 51% to at its rival.
What's interesting:  There has been growing speculation that "Ma Bell" may be interested in acquiring the UK-based Vodafone to gain a foothold in Europe.  Vodafone could be ripe for a takeover after selling its 45% stake in Verizon Wireless. AT&T CEO Randall Stephenson has made little secret of his fascination with the European market, and it will be interesting to hear whether he is drawn to elaborate on its conference call.
Correction: An earlier version of this piece mistakenly had the current net income figure at $3.6 billion and the year-ago figure at $3.8 billion, instead of the other way around.