At the Global Climate Action Summit in San Francisco this week, the crisp Pacific air was filled with promises of less carbon. No one making those promises mentioned national governments.
Ten new states and cities joined an alliance to phase out coal. Zero-emissions vehicle targets were adopted by 26 cities, states, regions, and businesses. The Zero Carbon Buildings Commitment was endorsed by three dozen businesses and governments. India's $20.7 billion Mahindra Group is going carbon neutral, while strict, independently-verified carbon limits were embraced by 76 companies, including Adobe and Dell. This all comes on the heels of California passing a bill to use 100% emissions-free electricity by 2045, and governor Jerry Brown's even more ambitious (if less binding) executive order committing the state to carbon neutrality over the same timeframe. (Browse the "overwhelming" number of announcements streaming out of the summit here.)
With the US government all but out of the game (for now), the action is going local. The world seems to have decided that bottom-up is the way to stop climate change. "It's remarkable seeing what is actually happening on the ground," says David Waskow of the World Resources Institute. "It's a network model for taking climate action."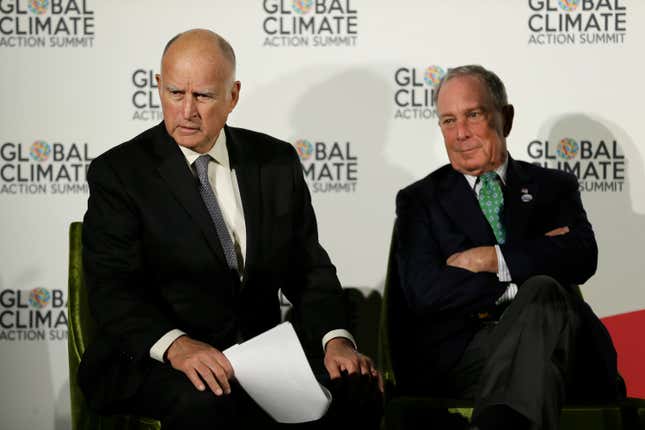 But is it enough? Governor Brown and former New York mayor Michael Bloomberg argue it's close. The two lead America's Pledge, a local climate action group with more than 3,000 U.S. cities, states, businesses and other groups attempting to deliver on America's goal of a 26% reduction in greenhouse gases by 2025 under the Paris Agreement. (Despite president Donald Trump's pledge to withdraw the US from the agreement, he can't legally do so until November 2020). America's Pledge now claims it's within "striking distance" of fulfilling the US climate commitment. The group hopes enough momentum at every level of society may stymie federal efforts to stop progress on slowing climate change.
Much of the San Francisco summit, in fact, was styled as a showcase for what can be done in the face of recalcitrant, or merely unambitious, national governments. This "all hands on deck" strategy is now gathering steam. It could lower global emissions by an additional third (15 to 23 gigatons of CO2-equivalent per year) compared to national policies alone, according to an analysis (pdf) by researchers from Yale University, NewClimate Institute, and the Dutch government. While not enough on its own, researchers say it's the only way the world can slash enough emissions to keep the planet "well below" the 2°C increase by mid-century mark that scientists warn spells climate disaster.
This shift in strategy is evident on the international stage as well. The first major climate pact, the Kyoto Protocol, sought to hammer out a nation-to-nation agreement imposing global standards. Although 37 industrialized nations signed on (the US signed, but never ratified), the pact was not a resounding success, and subsequent diplomatic attempts to tighten emissions have often floundered.
In the intervening years, negotiators have accepted that the purely top-down process is not working. Today's targets are now voluntary, collective and formulated by each nation to reach a common goal. That was instrumental in pushing the Paris Agreement over the finish line in 2015. Signed by 195 countries responsible for 97% of global emissions, the agreement did not force everyone to adopt uniform targets, but set an overall goal (a temperature rise of no more than 2°C) allowing nations to haggle over how to reach it collectively.
Nationally determined contributions, aligned with national priorities, were submitted. Richer countries generally adopted tougher quantifiable targets, while poorer countries could take appropriate actions over "business-as-usual" scenarios. Major emitters committed $100 billion by 2020 to help finance this transition. A legally-binding, international monitoring process allows everyone to track progress, so countries can then renew, and tighten, their commitments every five years. Groups like the National Resources Defense Council admit the Paris Agreement doesn't "solve" climate change, but puts the world on a safer climate trajectory with a virtuous cycle of rising ambition over time.
Scientists say, in order to avoid the danger zone, GHG emissions must peak by 2020, and then steadily decline until the world is on a sharply declining emissions trajectory by 2030. Ultimately, net CO2 emissions should fall to zero by the end of this century (pdf). Global efforts will only be enough to reach this goal if local, state and regional actions pick up most of the slack, according to researchers (pdf). San Francisco is a start.