South Korean president Moon Jae-in arrived in Pyongyang today (Sept. 18), tasked with the most difficult of diplomatic challenges—bridging the gulf between North Korean leader Kim Jong Un and Donald Trump, and persuading Kim to commit to full denuclearization.
The three-day summit is the third meeting between Moon and Kim, and the first to take place in North Korea between leaders of the two countries in 11 years.
It follows a summit between Trump and Kim in Singapore in June, where the North Korean leader made vague commitments to denuclearization that Trump seemed delighted with at the time. Progress has stalled in the months that followed, however—the United Nations's head of political affairs Rosemary di Carlo said yesterday (Sept. 17) that there are signs that Pyongyang is "still maintaining and developing its nuclear weapons and ballistic missile programs."
Moon will also work to secure a declaration of the official end to the Korean War, in place of the current armistice which has been in place since 1953. A peace treaty ending the war—like the San Francisco Peace Treaty signed by dozens of countries after World War II—would be near impossible, as it would need to be signed by the US, which also is technically still at war with North Korea. The two Koreas, might, however, agree to end hostile acts through a peace "deal" or "agreement," although the US would be skeptical (paywall) about such an outcome if it appeared intended to help boost Pyongyang's campaign to get American troops out of South Korea.
Observers watching the spectacle of Moon and Kim's meeting in Pyongyang this morning, however, would be forgiven for thinking that peace has already been achieved between the two enemies. The two leaders (and their wives) embraced each other at the airport, and Moon later sped through the North Korean capital in a car as he was cheered on by crowds chanting "unification!"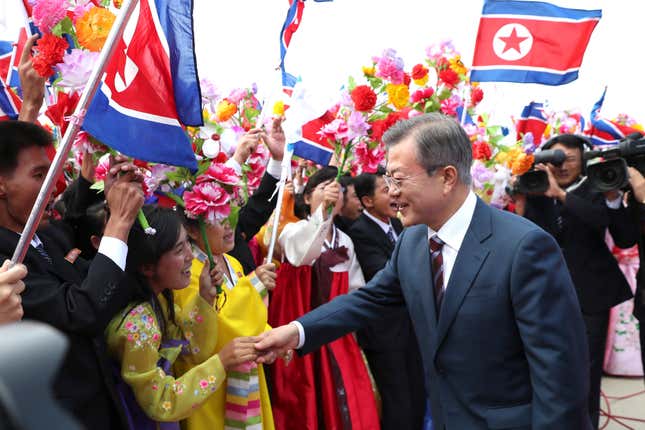 The two leaders will sit down for proper talks at the Workers' Party headquarters this afternoon, a spokesman for the South Korean government said. While the leaders meet, their wives will visit a music school, a spokesman for the South Korean government said.
Following today's talks, Moon there will be a banquet and cultural performances featuring K-pop stars Ailee and Zico, and North Korea's Samjiyon Orchestra. During the first inter-Korean summit, South Korean girl group Red Velvet and veteran singer Cho Yong-pil were among those who performed in Pyongyang.
Besides K-pop stars, Moon went to Pyongyang accompanied by an entourage of the bosses of South Korea's biggest companies, including Samsung's vice chairman Lee Jae-yong. They're expected to meet with North Korea's vice premier Ri Ryong Nam today to discuss economic cooperation.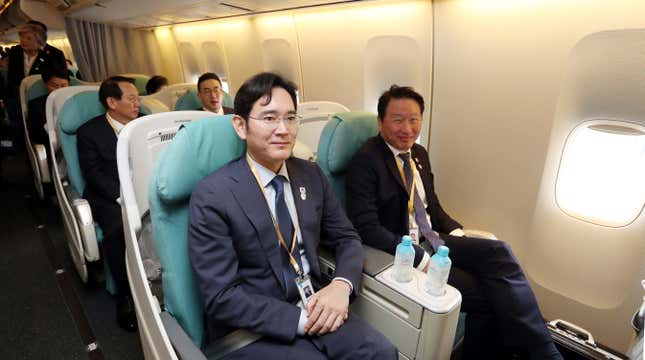 South Korean news reports say the two leaders will meet several times over the three days. Tomorrow, lunch is scheduled at Pyongyang's 1960s-era state-run Okryugwan restaurant, after which Moon will be taken on a visit of the city and some of its facilities.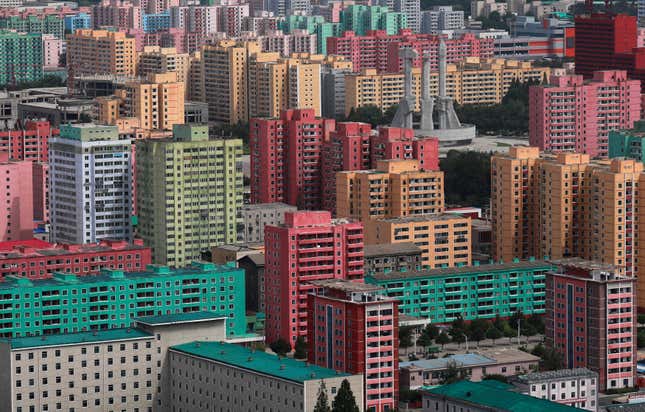 The schedule of the last day, Thursday, is open, and perhaps depends on how receptive Moon finds Kim to his efforts to bridge the divide—or not.