Facebook's ad-targeting technology is once again getting the company in trouble. The American Civil Liberties Union (ACLU) has filed a complaint with the US government claiming that targeting on the platform has allowed employers to post advertisements that enable discrimination based on gender.
"Facebook has created and profited from a powerful tool for discrimination against female and other non-male job applicants," the complaint says.
The ACLU and law firm Outten & Golden filed charges with the Equal Employment Opportunity Commission (EEOC) on Tuesday (Sept. 18) on behalf of two women, the Communications Workers of America (CWA) union, and the female workers it represents. The charges are against Facebook, and ten employers that used its ad system to advertise open positions to male candidates. These include furniture, moving, or renovation companies, and the police department in Greensboro, North Carolina.
Facebook's ad-targeting system allows advertisers to exclude certain audiences from viewing their ad. Before each ad is placed, the advertiser  is required to define their audience with regard to their age, gender, and location. With regard to gender, they can pick "all," "men" or "women." One company in the complaint, Rice Tire, allegedly placed ads targeted only to younger male Facebook users, excluding female and non-male potential applicants, and those over 55.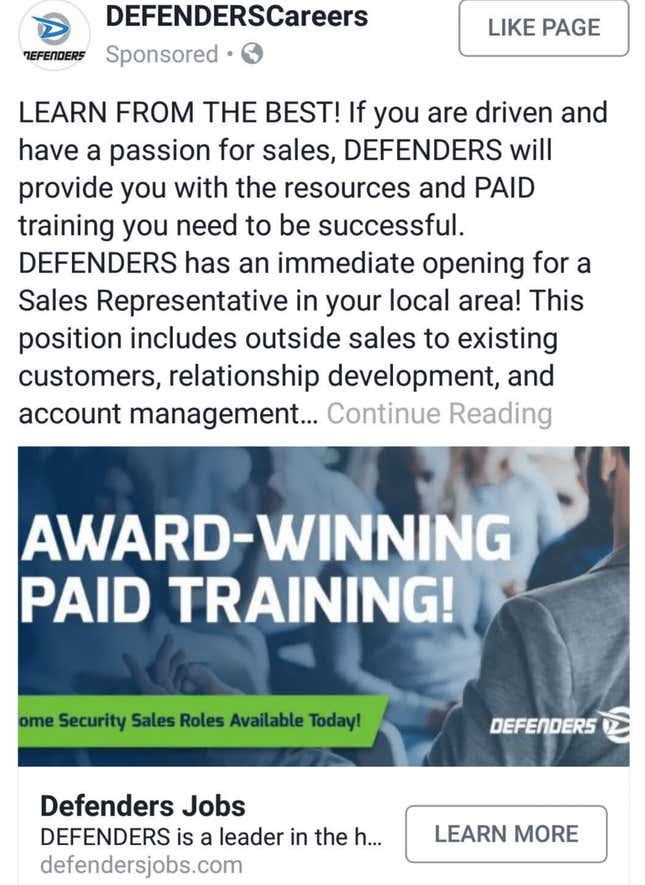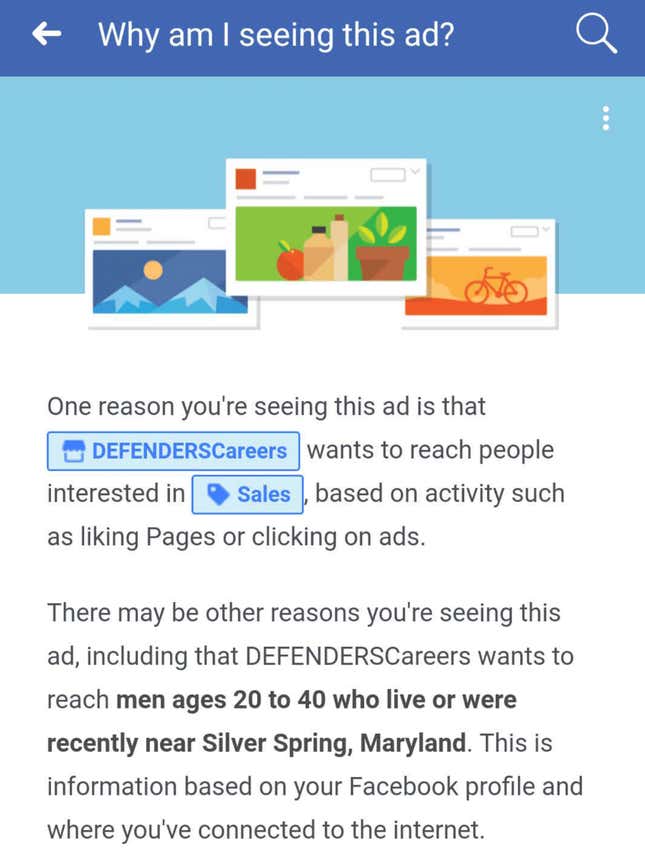 Facebook has faced intense criticism for allowing advertising discrimination in the past. In 2016, ProPublica reported that advertisers could exclude minorities from housing ads. The company had not fixed the issue a year later, ProPublica also reported at the time, and earlier this year, fair-housing groups sued the company for enabling discrimination. On top of that, also earlier this year, the CWA expanded a lawsuit against the company to include charges of age discrimination in employment advertising. Another ProPublica story showed in 2017 that some of the categories in Facebook's ad tool were anti-Semitic. 
Galen Sherwin, senior staff attorney at the ACLU Women's Rights Project, told Quartz this latest case was a result of the ACLU's increased scrutiny into Facebook's ad-targeting mechanisms following the other controversies.
The complaint says that the gender discrimination that Facebook enables "constitutes intentional discrimination and disparate treatment" under Title VII of the 1964 US Civil Rights Act as well as similar local and state laws. The EEOC can help the parties reach an agreement, but it can also decide to sue Facebook.
"There is no place for discrimination on Facebook; it's strictly prohibited in our policies," Joe Osborne, a Facebook spokesperson, said in a statement to Quartz. "We look forward to defending our practices once we have an opportunity to review the complaint."
Facebook's more detailed advertising options are also discriminatory, the charges say, because they allow employers to include or exclude people's "interests"—which can give insight into their lives—such as "Single Moms," or "Soccer Mom." Some of these options, the complaint says, are themselves discriminatory (you have an option for "Working Moms," but not for "Working Dads").
The complaint also claims that a fundamental tool for the company's advertising business facilitates discrimination. Facebook's "Lookalike Audiences" tool allows advertisers to upload lists of their current customers (or in this case, employees) and show their ads to Facebook users who are similar in their age, location, and interests. Using this feature in employment advertising "involves disparate treatment, because it determines which users receive job advertising, recruitment, and hiring based on their gender," the complaint says. 
Sherwin said that gender-based targeting or "Lookalike Audiences" are unlawful in employment advertising and should not be allowed (or in housing and credit ads, which are all tightly regulated). She compared these practices to employment advertisements of a bygone era, when newspapers would have two columns: "Help wanted—Male," and "Help wanted—Female." Such advertising was outlawed by the Civil Rights Act.
The complaint, which emphasizes that Facebook is no mere intermediary in job advertising, but acts like a full-on employment agency, says that the effect of such discrimination is "profound, and only increasing as the world becomes more connected through social media." Employment advertising and recruiting "has undergone a seismic shift," with social media platforms becoming a "dominant force in the national labor market," it adds.